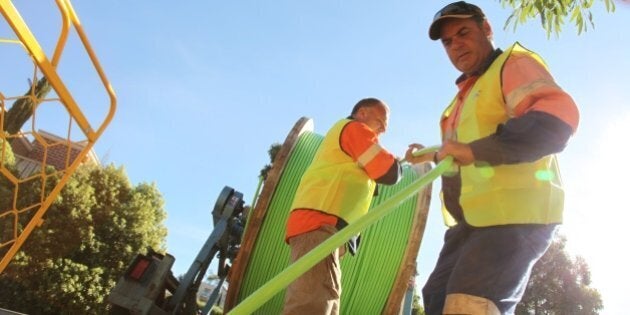 The National Broadband Network has announced the next phase of its rollout, with plans to start connecting 7.5 million properties to the network in the next three years.
NBN Co today made the announcement of suburbs that will be included in the next stage, with plans to begin construction for NBN services by September 2018.
NBN said 2.2 million homes in NSW, 2.15 million in Victoria, 1.5 million in Queensland, 617,000 in South Australia, 802,000 in Western Australia, 104,000 in Tasmania, 81,000 in the ACT and 11,000 in the Northern Territory are included in the next rollout phase.
These numbers are in addition to the "1.3 million premises ready for service, and 700,000 premises in build," which will bring "the total number of premises to be either ready for service or scheduled to be in build by September 2018 to almost 9.5 million," according to NBN Co.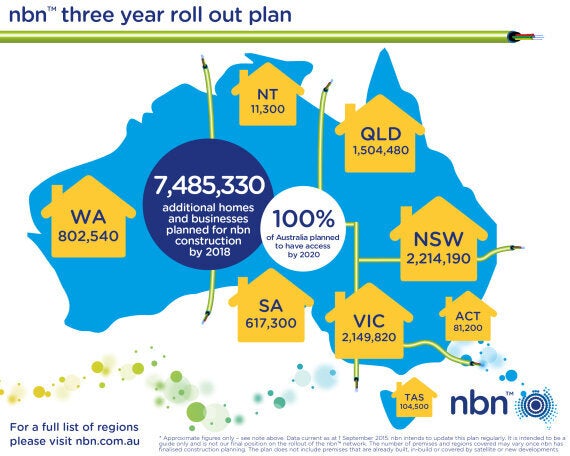 The announcement comes just a week after it was revealed NBN-related complaints rose almost 70 percent in the past year. More than 6,700 complaints were received by the Telecommunications Industry Ombudsman, the majority of which were related to technicians missing appointments to install the service or delays connecting to the network.
"The challenge for NBN and retail service providers is to ensure the roll out of this highly anticipated technology is a positive experience for consumers," said acting Ombudsman Diane Carmody.
The new addresses will be connected to the network through either fibre to the node (FTTN), fixed wireless or hybrid fibre coaxial cable (HFC) cable TV networks. HFC connections are where cable TV connections exist and NBN upgrades the existing network "rather than build another broadband network over the top of these existing HFC networks," according to the company.
FTTN will be the most used connection, with more than 800 regions in the new rollout to be connected to the network in this way. Around 200 will patch in with HFC connections, while another 200 -- mostly in more regional or remote areas -- will be linked in on fixed wireless connections. Again, check which regions get which connections here.
"Over the last year we successfully trialled new technology, renegotiated construction partner agreements, started connecting homes with FTTN and launched our new long term satellite," said NBN CEO, Bill Morrow.
"This is another big step toward our goal of connecting 8 million homes and businesses by 2020."