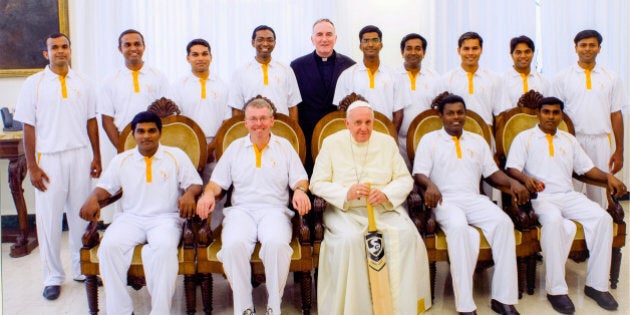 The end of football season and the gradually warming weather means cricket is on the way. Anticipation for the southern hemisphere cricket season is building in all the major cricketing nations -- Australia, New Zealand, India, England, Pakistan.... and Vatican City?
For inside the walls of the Holy See, where Pope Francis makes his home, the appetite for cricket is strong. The Vatican's official team is the St Peter's cricket club, unofficially known as the Vatican cricket club, and they have a match this weekend -- against an all-Muslim team from England.
It should be pretty unsurprising that an Australian is behind it. Former Melbourne priest Father Robert McCulloch, Procurator-General of the Columban Fathers in Rome, is one of the team's committee members. Speaking to The Huffington Post Australia from his home in the Vatican, McCulloch said a cricket team in the city actually makes a lot of sense.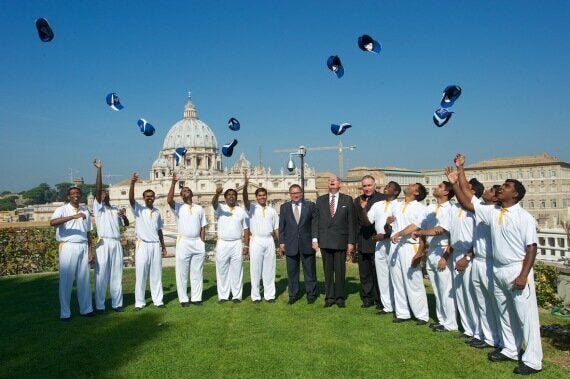 "The team started in 2013, with the Australian ambassador to the Holy See, John McCarthy. He was a cricket fanatic and he realised even though there was football being played here, really cricket was the game which captured the attention of India, Pakistan, Sri Lanka, Bangladesh, Australia, England, New Zealand and more," he said.
"We thought it was the opportune time to start the St Peters cricket club, named after the St Peters basilica, but it has quickly become known as the Vatican cricket club."
McCulloch is a Columban priest who worked in Pakistan for 34 years, so knows well the esteemed position the game of cricket holds in south Asia.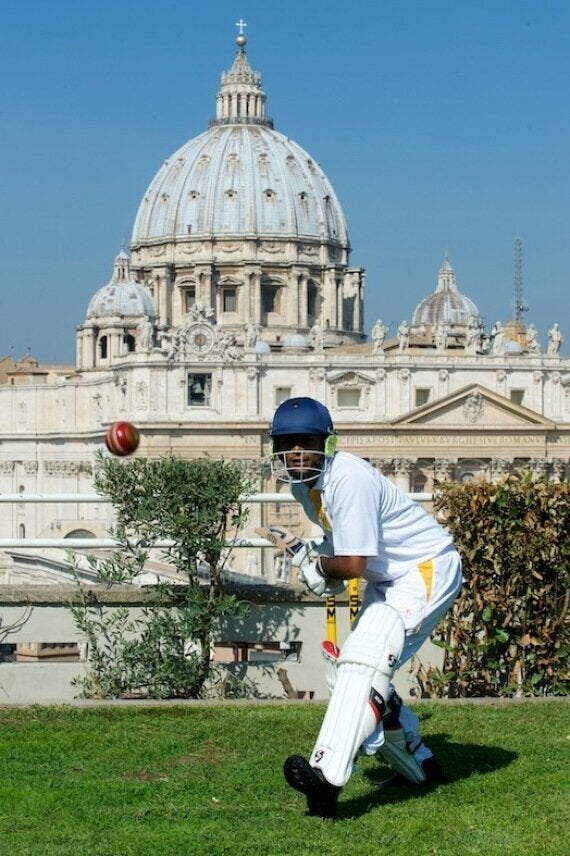 The Vatican team is mainly made up of seminarians, or those training to become priests, from south Asian countries. They can't practice inside the walls of the Vatican -- "the curators of the historic buildings realised high balls crashing through windows would cause something of a problem," McCulloch laughed -- but instead train on a small oval outside Rome owned by the Campanella cricket club, which itself is a social club made up of mainly expatriates living in Italy. The team is allowed to train sometimes on football grounds near the Vatican seminaries.
The Vatican cricket team will this weekend face off against the Mount cricket club, an all-Muslim team from Yorkshire, England. McCulloch said the idea for the match came after the Vatican team visited the United Kingdom in 2014 to play against a team assembled by the Archbishop of Canterbury. He said the Vatican team jumped at the chance of such a unique game.
"When Pope Francis was on his recent tour to America, he said too many walls have been put up; that it's about time we started to build bridges. This is a small bridge," McCulloch said.
"The cricket game is a a manifestation of friendship, harmony and good competition. It helps to present good news. There is so much news out there about religious conflict, so this is a very positive step."