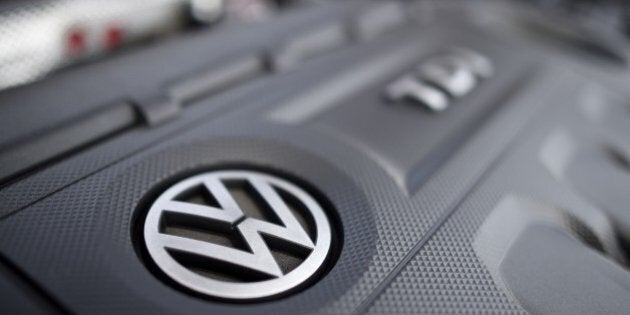 Volkswagen's dodgy environmental technology scandal may not be affecting Australian consumer's thirst for the popular car manufacturer's products, new data shows.
As the car giant comes under increasing pressure in Europe and the US after revelations it fitted "defeat devices" to some cars to circumvent environmental standards, ad enquiry data from carsales.com.au shows the scandal appears to have had little lasting impact.
"When the initial story broke in Australia, around October 6, we did see a slight dip in on site activity related to Golf and diesel in particular, but that has probably more than rebounded now," carsales.com.au director of dealers Chris Polites told The Huffington Post Australia.
"As we get further through this saga I would not expect much deviation to the trend."
The data shows that in the week the scandal broke enquiries for Volkswagen trended down, but carsales.com.au say it has likely hit its trough.
Carsales CEO Greg Roebuk said the scandal may end up pushing more consumers to consider petrol cars rather than the diesel in the VW range.
He said while diesel enquiries have been trending down since the story broke in the U.S., consumers were already moving away from diesel as petrol prices come down.
"This scandal may end up pushing more consumers to consider the petrol option over the diesel in the VW range, but the VWs are still great cars with great fuel economy," he said.
"We've had a number of dealers tell us that people that had ordered VWs with affected engines were still wanting to take delivery despite the issue."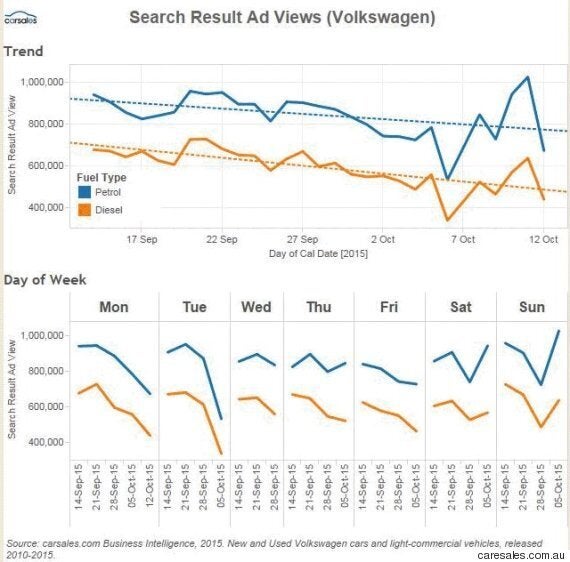 Carsales' data shows Australia's top 10 most affluent postcodes are more likely to purchase the VW Golf than any other car, with seven out of Australia's top 10 wealthiest postcodes (by income) searching for this car.
Polites said the car was also popular in less well-off suburbs, and Australian consumers appeared unfazed by the news of the environmental scandal compared to their European counterparts.
"Firstly Volkswagen is a bigger brand in Europe and certainly diesel make up a bigger proportion Volkswagen of sales in Europe," he said.
"In Australia the Golf in particular, which is sort of their mainstay, is only running less than 20 percent diesel sales.
"So if we see no change in the demand of that product, it probably suggests people buy that car for the fuel economy benefits, or the perceived fuel economy benefits, rather than the environmental reasons."
The car making giant has been under intense fire since news of the scandal broke in early October.
On Thursday Volkswagen's newly-installed boss, Matthias Mueller, said the company can shine again in two to three years, after the company announced the European recall of 8.5 million cars.
The BBC reports the move was prompted by Germany's automotive watchdog, which had earlier told VW to recall 2.4 million domestic cars.
German media reports suggest the watchdog had rejected VW's proposals that car owners could voluntarily bring their cars in for repair.