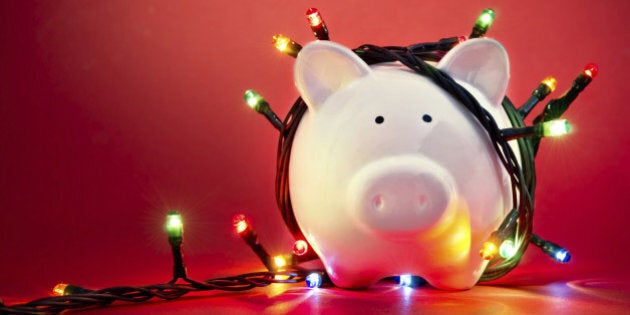 If you're getting that woozy get-me-off-the-bus feeling as you walk down supermarket aisles filled with sparkly reindeer decorations and edible Santas, it's time to face the reality -- Christmas is just two months away and you should be madly saving for presents and a holiday.
Surely, you've been putting money aside? And, clearly, you've written a solid budget to cover all those presents you're on the verge of buying? If not, then it's time to get serious.
Jenny Brown, the National Vice President of the Association of Financial Advisers', told Huffington Post Australia the best way to survive the "silly season" is to have a budget and stick to it.
"First you need to work out what you want to do, how much you want to spend and, no matter what, do not go over your budget. It's when you go over your budget for little things here and there, that your budget blows out and you find yourself out of pocket," Brown said.
"Start buying sales items early or search online for discounts. Find things online that you can buy cheaper than in the stores. Jump onto Gumtree and eBay because you can get fantastic savings if you know what you want."
"Don't spend money buying and posting Christmas cards. Instead, send an e-card or make a fun personalised message on your smartphone or computer. You can do a generic message or a personalised one and it's something people love to receive."
Brown also advises people to look at online resources for additional budget help, such as Your Best Interests.
"There are a lot of good sites to help you budget, advice and calculators. The Australian Securities and Investment Commision's Moneysmart also has a good financial literacy site and there are a lot of good tools to help you. You don't have to spend a lot of time organising your budget."
"Once you set a budget, you can keep reviewing it. You need to be flexible and even account for loose change in your pocket. If you find you have loose change at the end of the day, put it in a jar and you'll be surprised how much cash you have at the end of each month."
"I always encourage people that don't have a lot of funds, to do the Secret Santa and set limits, rather than buying for every person in the family or office. A lot of stress comes through Christmas as people try to keep up with the Joneses. Try to keep it simple and reasonable but plan now. It's already October but we still have two months to go so if you can plan it, plan well and start today, not tomorrow."
Aside from financial planning, one of the major pitfalls of Christmas time is the untold pressure of trying to please everybody. This is particularly true for blended families and second marriages with step children.
"It's a time when people are often very torn. That's when arguments begin over who's hosting Christmas lunch or dinner, who's buying the turkey, who's not pulling their weight, who's going to sit where, who gets the kids for lunch, who gets the kids for dinner and so on," Brown said.
"For Christmas lunch, put it out there that everybody brings a plate of food, everybody contributes to the meals. Don't create a situation where one person carries the burden. A lot of these pitfalls would be avoided if plans were put in place well in advance. Plan early and be reasonable. The trick with Christmas is to make sure it's a win-win situation for everybody."