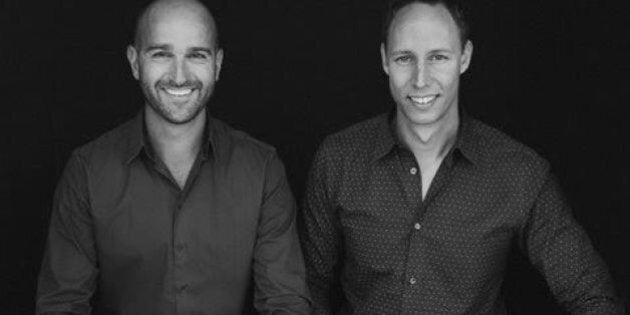 Social media platform Ideapod is a new Australian-made way for people to share ideas and collaborate, and it's capturing the interest of the Richard Bransons of the world.
Ideapod is the brainchild of Melbourne men, Mark Bakacs and Justin Brown who moved to the U.S. to pursue the business and, after successfully launching, are now open in Australia.
The men received an enormous boost when Richard Branson officially endorsed their platform.
Branson described the innovation as "offering a space where people can bounce ideas off each other".
"Ideapod increases everyone's chances of coming up with game-changing concepts," Branson said.
Bakacs and Brown met Branson when they were invited to his private island, Necker Island, as part of a small group of entrepreneurs attending Branson's Change Makers event.
The duo said Ideapod was currently equal with Facebook's engagement; an average duration of 15 minutes. Monthly active users were consistently growing at 35 percent monthly and is now being used in more than 200 countries.
Users post ideas limited to 1000 characters or 40 second videos, with the community bringing the ideas to life.
Bakacs was a corporate lawyer and Brown was finishing his PhD when they decided to take a chance, quit their work, move to the U.S. and create Ideapod.
"The first step was to build up a team, so we brought on board a designer and a senior developer," Bakacs said.
"From that point we built some early prototypes of the platform and showed these to prospective investors and users of the platform.
"Ideapod appeals to a wide range of age groups. We have some young teenagers sharing some incredibly thought provoking ideas, as well as a man in his 90s sharing his perspective on macroeconomics."
For those who like to keep ideas close to their chest, Ideapod is developing private areas of the site. But, for now, most ideas are of the inspirational kind.
"There will be a private area where ideas can be shared and protected," Brown said.
"But many ideas are shared about how to live a positive and optimistic life, what's happening in current affairs or new developments in science and technology.
"We are developing private areas of the site where ideas can be shared and protected.
"There have been examples of people meeting on Ideapod and building businesses together. One example is Liminal, a virtual reality company created by two of our users who first met in person after six months of dialogue on the site."
If a person has, for example, a fresh idea for an app or a game, they're able to share their thoughts in the general subject area of what they're working on.
"Then, the community will engage in conversation, create relationships between ideas, suggest new ideas to consider and help each other create new perspectives on what's being considered," Bakacs said.
"Ideapod really is for everyone, as we all have ideas to share."
For Brown, the concept is about pushing ideas beyond one individual's capabilities.
"When we all express our ideas, and work together, there's no limit to what can be achieved for each other and for our planet," Brown said.
"We created Ideapod because we saw the potential of social media to be meaningful and collaborative."