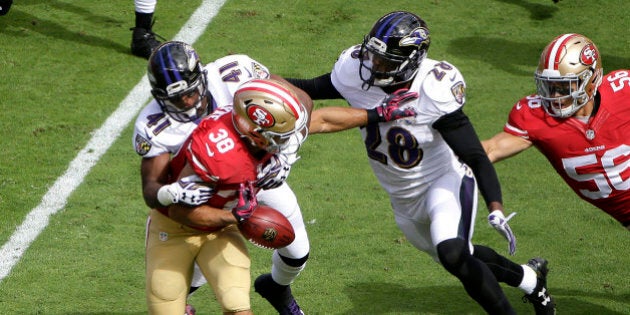 It's been another rough day at the office for Aussie NFL convert Jarryd Hayne, the San Francisco 49ers recruit fumbling another punt with his very first touch in today's game.
The former Parramatta Eels NRL star lined up for the 49ers against the Baltimore Ravens hopeful of a more noteworthy role in the team, moving up the depth chart at the running back position due to injuries. However, it was not until midway through the first quarter when Hayne took the field for the first time, standing deep to return a punt...which he promptly fluffed.
Hayne made the catch and moved well to evade a few defenders, but fumbled in the tackle of two Ravens players as one appeared to knock the ball loose. A 49ers team-mate recovered the ball, but Hayne looked filthy at himself both on the ground after the tackle and later on the sideline.
It brought back memories of Hayne's Week One game against the Minnesota Vikings, where he fumbled his first attempt at a punt return. Despite concerns about his form, he retains the support of the team's coaches, who have said he is in the early stages of his NFL career and is an international level athlete.
Hayne's fumble against the Vikings
Hayne was not sighted again in the first half, as the 49ers went into the break with a 16-6 lead.
Hayne did not make any more significant waves in the second half either. Despite an injury to first-choice running back Carlos Hyde, Hayne did not make any runs or receptions and did not return another kick. His team held on for the win though, notching up their second victory of the regular season 25-20.