WA Police
Western Australian man Reg Foggerdy endured six days lost in remote bushland with no water and only ants for food, but his is far from the first amazing tale of survival in the rugged parts of Australia.
Foggerdy, 62, became lost on a hunting trip in a remote part of WA's Goldfields region on October 7 after chasing a camel into the bush. He became separated from his hunting partner and spent six days lost in the outback before being found by specialist police trackers on October 13. He was wearing shorts, a t-shirt and thongs when he became lost.
"He was eating black ants, that's how he survived, so fantastic survival skills by him, and fantastic skills by our trackers who found him in an extremely remote location," said Goldfields police superintendent Andy Greatwood.
"He was extremely dehydrated, a bit delusional, but we've administered first aid and rehydrated him and it's pleasing to say he is now sitting up and talking... It was extremely hot, extremely remote, and most people probably wouldn't have survived."
Foggerdy is only the latest in a long line of incredible stories of survival from people lost in the rugged Australian outback, with countless stories of amazing endurance.
NAKED AND SUNBURNT
North Queensland woman Shannon Fraser emerged from 17 days lost in scrub last year reportedly naked except for a plastic bag wrapped around her and severe sunburn.
She claimed she became lost while travelling to a swimming hole and spent more than a fortnight lost in the bush. She said she survived on insects and fish, but despite huge teams of police and even helicopters searching for her, she was not found until she stumbled into a carpark near Golden Hole reserve, north of Innisfail.
ENGLISHMAN FEELS THE COLD
British backpacker Jamie Neale survived 12 days in NSW's freezing Blue Mountains after becoming lost on a hike in 2009. He went walking alone in the middle of winter, a July day trip turning into a near-fortnight lost in rugged terrain.
He had left most of his possessions, including his phone, at a nearby youth hostel where he was staying. Neale was found by bushwalkers on a fire trail, who called emergency services to treat him for exposure and dehydration.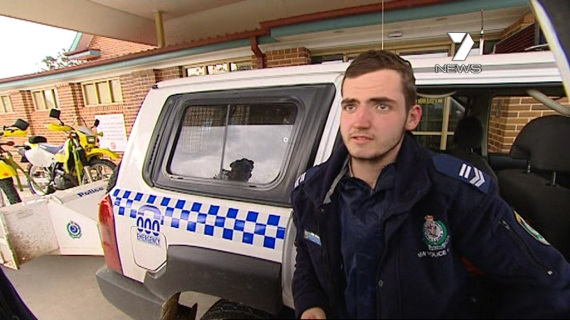 Neale after his rescue
A DOG'S LIFE
Humans aren't the only ones who have miraculous tales of surviving the bush. Connor, an English springer spaniel, was found alive seven months after running away from his family on a road trip south of Perth. The dog was found 35km from where the family lost him in June 2014. Having survived freezing nights and hot days, Connor was discovered by a farmer in January, who contacted the dog's owners via social media.
LONE RANGER
American man Robert Bogucki packed his bike up with supplies in 1999 and set out on a religious journey into the WA desert to find himself. His bike kept getting stuck in sand, so he ditched the vehicle -- and most of his supplies -- and began walking.
He actually hid from rescuers' attempts to find him, wanting to stay out in the desert to test his faith. He survived 43 days, 40 without food and dozens without water. Bogucki shed 30 kilograms before finally being found.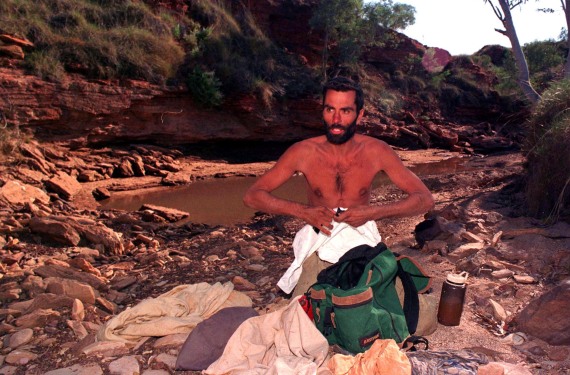 Bogucki, after his rescue, near the water hole where he was found
A LONG WALK
Cyril Jackson was forced to walk 200km in five days in a desperate search for help, after his car broke down in the Great Sandy Desert. On a trip with his young son, his son's mother, his uncle and grandmother, the group camped near their car for several days but set out for help.
Clad in jeans and thongs, Jackson staggered into a campsite after several days walking and called for help. Unfortunately his 12-month-old son had died before help could arrive.