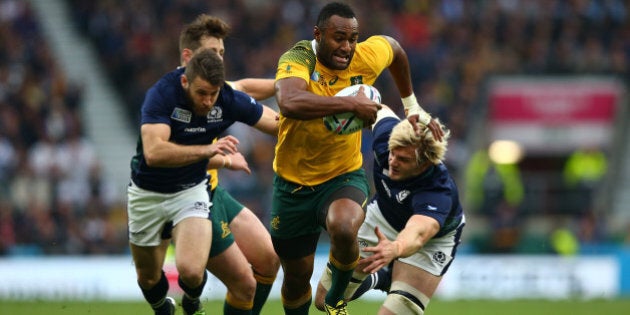 Australia has defeated Scotland 35-34 at Twickenham, in what could be referred to in years to come as 'the great escape' .
The Wallabies secured a semi-final berth with a penalty goal in the final minute of play when Bernard Foley was called upon to take the kick, in pouring rain, to seal the one point victory.
In what was a less than convincing performance against a strong attacking Scotland unit, Australia can count itself fortunate to have gained the win in a game which was notable for some basic ball handling errors by the Wallabies.
The game was closely contested with Scotland holding a one point lead at half-time. As the Wallabies regained the advantage and looked to be widening the gap, the Scots were persistent and sat just five points behind with less than ten minutes remaining in the game as the rain began to fall.
In what was a significant match for two of Australia's veteran key players, decisions in the final minutes became significant.
The fact that the Wallabies scored five tries to Scotland's three and still only won by a point is more a testament to the wobbles in execution the team was suffering as well as Foley's poor day at the office with the boot -- a situation which was remedied with that final kick and was a testament to the growth of the player throughout this tournament.
This win by Australia means it will take on Argentina in next week's semi finals along with New Zealand which will contest the other semi against South Africa.