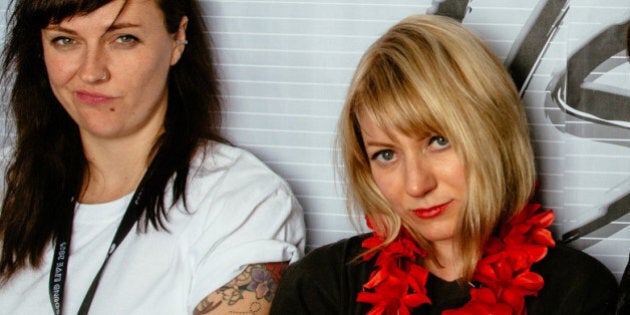 Emily Kelly has lost count of the times she and business partner Rebecca Reato have been mistaken for groupies while working backstage at a heavy metal gig.
But the co-directors of Deathproof PR just smile politely and explain that they're not only "with the band" but part of the reason the band is there in the first place.
Kelly and Reato are smashing the stereotype that metal is a man's world with Deathproof PR, an independent music publicity and promotions small business dedicated to giving a voice to niche genres such as metal, punk and hardcore.
They did it by following one of the golden rules of establishing a small business -- finding a gap in the market.
"There were heaps of independent publicity companies around but no one catering exclusively to heavy music," Kelly told The Huffington Post Australia.
"No one that knew audience or artists or even the genre particularly well or could competently handle a massive metal artist -- a lot of people were quite intimidated by those artists."
In 2011, they both quit full-time jobs with a major record label to start Deathproof PR, named after the Tarantino flick about a group of sassy ladies who exact revenge on a psychopathic super villain.
Being anywhere and everywhere during a festival is all in a day's work for Kelly.
While starting their own small business was a massive leap into the unknown, Kelly and Reato had "nothing to lose" by trying.
"It was a bit scary but we were both in our mid-20s and had nothing to lose -- no mortgage, no responsibilities, only rent to pay -- and very little overheads to start with," Kelly said.
"There were really no consequences if it didn't work -- we just had to find another job and when you're in your 20s you think everyone is going to give you a job."
So with more than 20 years of combined experience in music PR, Reato's business degree and Kelly's media degree, the friends took a leap into the unknown.
There was one small hurdle though -- neither knew anything about starting, or running, a small business.
"We knew nothing at all other that what we managed to Google," Kelly laughed.
"We found a couple of dot-point lists about registering as a business or a partnership, getting an ABN and coming up with a business plan for the next five years.
"But it's hard to predict where you might be in 5 years when you have no idea if your concept is going to work in the first place."
It did work though -- and continues to with the pair working on between eight to 10 campaigns a month including projects with big-name bands such as Megadeth, Iron Maiden, Motley Crue, The Prodigy and The Smashing Pumpkins.
Deathproof PR also employs a part-time senior publicist to help organise interviews and schedules, and a digital content coordinator to manage their pop culture blog site, Blerg. They also regularly take on interns.
Tips for small business success:
Having a solid network to draw from when they started their business helped Kelly and Reato see instant results when they launched almost five years ago.
"We were lucky -- we knew instantly the business would work because when we sent out an email telling people what we were doing, some replied with offers of work," Kelly said.
"Everyone was really encouraging and supportive, which made such a difference."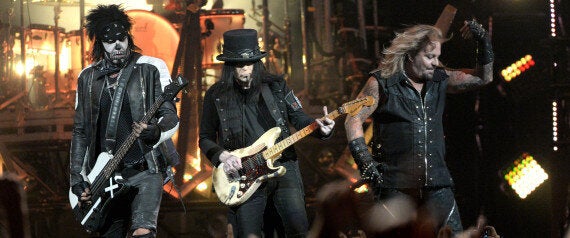 Deathproof PR worked on Motley Crue's final tour of Australia. KEVIN MAZUR VIA GETTY IMAGES
Deathproof PR got its start with Kelly working at her kitchen table in a share house in Melbourne and Reato working from her bedroom in a share house in Sydney.
Reato then moved to Melbourne and the two rented a shared office space -- but they don't regret those days working from home and may even move the business back to being home-based.
"Working from home is hard, you've got to have the right attitude about it,' Kelly said.
"You've got to be disciplined and understand what environment you work best in, and know yourself and your work habits really intimately. It's a learning process.
"That life-work balance can be blurred when you work exclusively from home -- you don't know when to stop working, but it can also work really well if you know yourself."
Deathproof PR has always pushed the boundaries -- Kelly and Reato consistently break the traditional PR mould and focus on how they can do things differently.
It could be as simple as trying different approaches in email subject lines, or sending funny photos or gifs in emails designed to get people talking or sharing on their social channels.
The pair are active on Facebook, Instagram and Twitter and use those platforms to promote their artists and the work they do.
"We don't want to be the same as everyone else, because we're not," Kelly said.
"We'd rather try different things and learn from them maybe not working as well as they could than just do things the traditional way. It's boring for everyone."
Being realistic when it comes to financial goals can make or break you -- it's all about your attitude.
"It's really important not to compare your wage to other industry equivalents - it can be really heartbreaking when you put in all the hours and don't feel like you're being paid accordingly," Kelly advised.
"There's not a lot of money in music, but we've been able to work with some of our favourite bands, and in a really meaningful capacity with people like Marilyn Manson and Billy Corgan.
"Some people might say they'd prefer an extra $20k a year. But you need to make peace with it or you're going to be miserable."