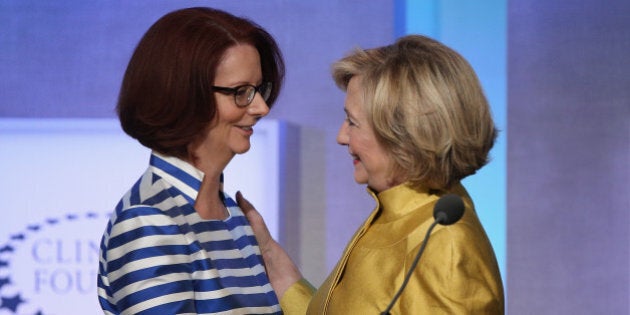 CANBERRA – U.S. presidential hopeful Hillary Clinton has featured Julia Gillard in her latest campaign advertisement, with the former Australian PM endorsing Clinton for the top job.
The new campaign advertisement starts with the word "leadership" and focuses on Clinton's term as Secretary of State.
In the ad, the former top U.S. diplomat is seen with world leaders, American troops and in the remarkable White House photograph taken as she, and others, watched Al-Qaeda leader Osama bin Laden being killed in Pakistan by Navy SEALs.
Gillard praised Clinton's expert diplomacy, saying she had built new relations with world powers in the Asia Pacific region.
"People would look at the election of a President Clinton and say, 'I know I am going to get someone who understands our part of the world, and will help us shape the best future'," Gillard said.
Gillard also praises Clinton's work to advance the interests of women and girls.
"Hillary Clinton understood in her heart how important it was for girls to get an opportunity but she also understood in her head that if we want to build peaceful, economically prosperous nations, then we have to educate girls," Gillard said in a longer version of the advertisement.
"She was determined to see that women take their places as economic partners in the community and take their places as political leaders in their community."
The Gillard endorsement appears alongside backing from U.S. President Barack Obama as "one of the finest Secretary of States" America has had.
Also speaking for Clinton and talking up her potential as a world leader and U.S. "Commander in Chief," former U.S. Defense Secretary Leon Panetta, former Secretary of State Madeleine Albright and retired Navy SEAL Lt. Eric Gardiner.