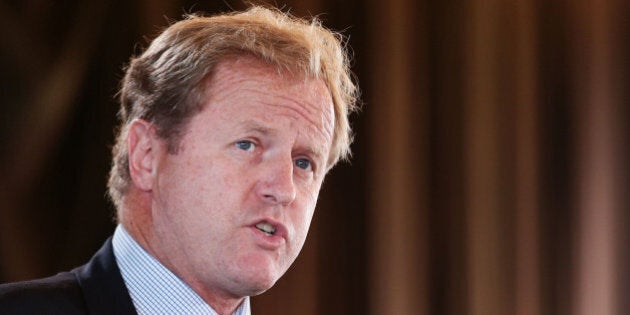 He will end his tenure on November 30 having been appointed in Nov 2012.
Smith has told a packed media conference at NRL headquarters that the "time is right".
"Rugby League has just finished an unbelievable year," he said, citing a record free-to-air television deal; an investment for Sydney stadiums deal worth $1.6billion and a strong financial foundation for the future growth of the League and the sport.
"It's been an exceptional year by any standards. Rugby League is stronger and healthier than ever before."
He listed the achievements of the ARL/NRL over his three year tenure emphasising the importance of the growing relationship with the public.
"We've widened our base of fans, players and members with investments in Touch Football, the female game and the Pacific," he said adding the significance he felt in the strengthening of the game's connections to its communities."
It has not been an easy three years for Smith as he came in for criticism from the time of his appointment having come from a finance and banking background in the UK with no sporting organisational experience.
Smith admits it has been a learning curve with regards the type of organisation but says he was brought in on a three to five year deal to lay a solid foundation for growth which he feels has now done and the next phase should be comfortably and confidently handed over to the next person.
The elephant in the room was always going to be the broader broadcast deal which the media and experts view as a negative but which both Smith and Grant, who sat alongside Dave Smith in the conference, see as a positive achievement as far as it goes saying while the FTA deal has been historic the broader media negotiations are still ongoing and to schedule.
"Our broadcast rights are in really great shape. What we did was a landmark Free-To-Air deal because the FTA market of all the markets is the most uncertain."
"So we're entirely comfortable that over the time period we deliberately set ourselves – two and a half years – that we are in great shape and we continue with commercially confident discussions -very productive and constructive discussions.
"I would not be going anywhere if I did not think the fans of this game are going to get a great outcome from the rights." he said.
ARLC Chairman John Grant will take on the responsibilities of the Chief Executive in the interim while a global search is made for a replacement to Mr Smith.