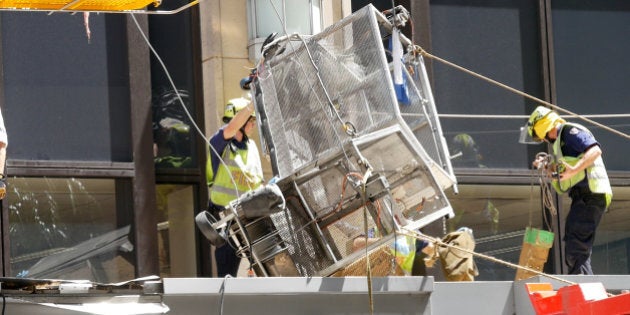 Two men have been rushed to hospital after falling several stories from a window cleaning platform in the Sydney CBD.
Emergency services received a call around 11.15am on Tuesday that two men had fallen onto an awning while cleaning windows at a building on Pitt Street.
They arrived to find a window cleaning platform crashed on the awning of a building, seemingly having fallen several stories. Supporting anchor points for the platform could be seen near the top of the building, cables still dangling between the roof and platform.
One man reportedly fell from the awning and on to a parked car below. He was taken to hospital, while another was removed from the roof by ambulance and fire crews using a crane.
A Fire Rescue NSW spokesman told media both men were conscious and responsive when emergency services arrived. One man was said to be in his mid-20s and other around 50. Both were said to be in a serious but stable condition.
The accident unfolded during the lunchtime peak hour, with a large crowd of pedestrians gathered on all corners of the intersection. Police were forced to control both foot and motor traffic, closing Pitt Street between Alfred Street and Bridge Street as a precaution.
Police say Worksafe NSW has been notified.