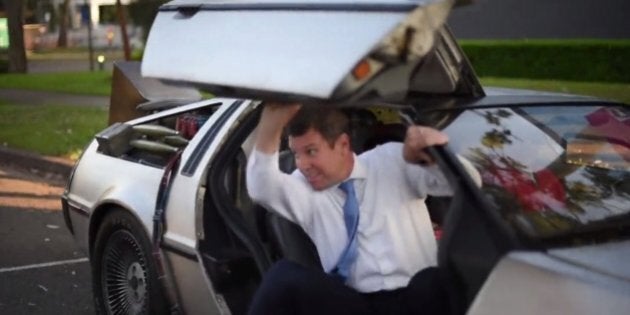 Malcolm Turnbull takes the train, bus and ferry to work. Mike Baird rolls up in a time machine.
The NSW Premier continued his run of slightly off-beat appearances on social media on Wednesday, marking 'Back To The Future Day' by taking a spin in a real life DeLorean.
October 21 2015, the date to which Marty McFly and Doc Brown travel forward in the film Back To The Future II, has been anticipated by fans worldwide. The Oz DeLorean group estimates there are only around 80 DeLoreans -- the model of car Doc Brown turns into a time machine -- in the country, but Baird somehow got his hands on one of them.
Rolling up to the kerb, then struggling to open the car's iconic winged doors, Baird -- in typical goofy style -- exclaims, "Woo! I've just seen the future for NSW. It looks fantastic."
"A 17-year-old man was charged and was in possession of a licence which expired over 30 years ago," the release joked.
"Investigations into the vehicle and what a flux capacitor is, are ongoing."
Police in Tasmania tried a similar gag.
Here's one we prepared earlier: