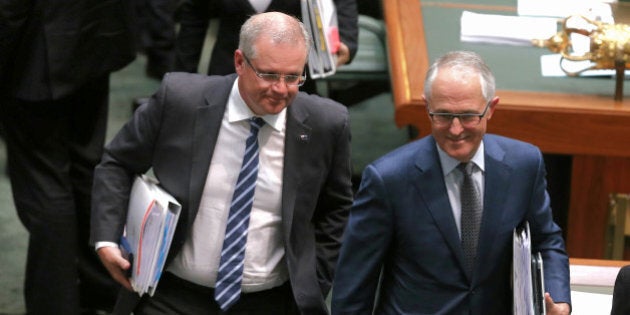 CANBERRA - The Turnbull Government has ushered in a new era of compromise, introducing significant legislative changes in a bid to pass long term stalled social security measures to curb family payments.
A revised and softer families package, reflecting months of negotiations with crossbench senators, has entered parliament.
"(This is) a better and fairer family payment package system, that more effectively targets family support for today's needs," Treasurer Scott Morrison told reporters in Canberra.
The proposed measures still scale back family tax payments in a bid to raise $1.9 billion over five years to pay for new childcare measures introduced in the 2015 budget.
"This is about delivering the savings," Morrison said.
"If you want to do something important for childcare, you have to deliver the savings to pay for it."
Family Tax Benefit part B would end once the youngest child in a family turns 13, instead of the original plan to cut it off when the child turns six.
In addition, there will be payment of $1000 paid to parents whose youngest child is aged under 12 months and a similar hardship amount paid to single parents and grandparents, where the child is aged over 13.
Crossbench Senators Jacqui Lambie and Glenn Lazarus have not decided whether they will support the compromise.
Lambie told The Huffington Post Australia that she will need to consult with the Tasmanian community before going ahead.
Morrison earlier told the ABC AM's program the new legislation would not affect the Budget bottom line.
The Opposition won't say whether it will support the revised legislation.
"It's a big win for families. The Government has backed down on one of the biggest cuts," Labor's families and payments spokeswoman Jenny Macklin told the ABC.
"We still have significant concerns, particularly for single parents and grandparent carers."