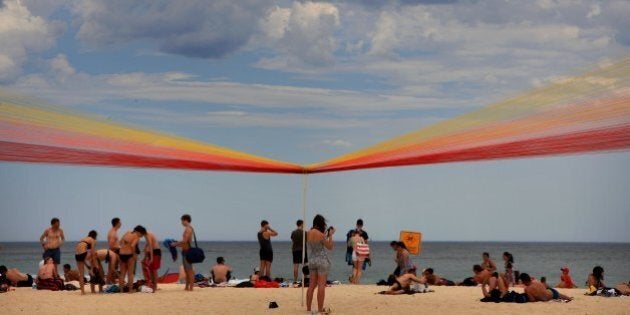 You know it's really almost summer when some unique artworks start to dot Sydney's Bondi to Tamarama coastal walk... That's right, Sculpture By The Sea is back.
Kicking off on Thursday, the 19th annual exhibition features over 100 sculptures from artists all over the world, including Australia. The final number was whittled down from over 500 submissions, from 41 countries and six territories, by a panel comprising of Geoffrey Edwards, Dr. Michael Hill, Jesper Rasmussen and Dr Nien Schwarz.
The final artists come from all over the world.
Though the artists have not yet been announced, Sculpture By The Sea organisers did post a world map (above) detailing where in the world their finalists hail from.
Bondi and Tamarama locals out and about in the past two days have also been treated to sneak-peeks of this year's artworks during their installation -- check out what's in store below.
The Bondi Sculpture By The Sea exhibition runs from 22 October - 8 November 2015.
There are also exhibitions held in WA's Cottesloe Beach (4 - 20 March 2016) and in Denmark's Aarhus. The dates for the next Aarhus exhibition are yet to be announced.