Fairfax/Andrew Meares
CANBERRA – On the day hundreds of new emojis have been released into the wild, the Department of Foreign Affairs has been grilled over Foreign Minister's famed use of the picture characters.
Labor Senators Sam Dastyari and Penny Wong have today pressed officials, including the department head Peter Varghese over Julie Bishop's "emoji diplomacy," particularly in relation to Russian President Vladimir Putin.
Earlier this year, Bishop gave a blunt reply on Putin during in an emoji only interview with Buzzfeed.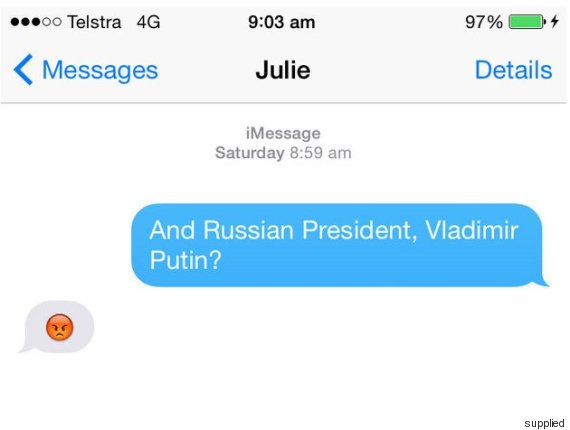 "I would like to understand the diplomatic message of the red face?" Wong asked in Senate estimates.
"It is to suggest that the Foreign Minister is angry... at President Putin? Or is it intended to express something else? I am trying to understand it."
The Bishop interview in February came just several months after then-Prime Minister Tony Abbott offered to "shirtfront" Putin over his response to the MH17 plane disaster over eastern Ukraine.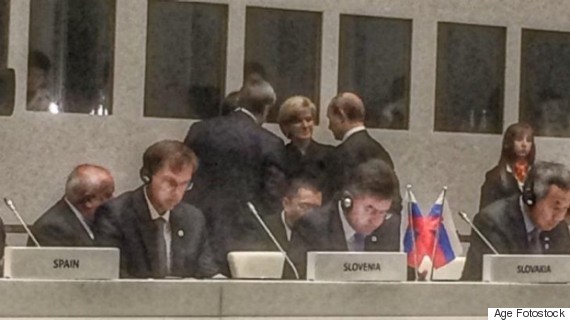 Bishop herself "buttonholed" the Russian President and managed to win a promise from him to get better access to the crash site.
Secretary Varghese declared he had not seen the Buzzfeed interview, but Wong pressed on with suggestions.
"We don't like him? We are sort of angry with him?" she offered.
He offered to take the question on notice which left Dastyari exasperated, "So formally you are taking on notice what does an angry face emoji mean?"
The Attorney General George Brandis, who is not known for his social media use, then decided to jump in.
"It was red, not angry," he said, before being corrected. "Oh, it is angry too?"
Bishop soon delved back into emoji use to offer a clarification, of sorts.
Happy to provide @SenatorWong 😳 with a translation of emoji to a language Labor understands 😎

— Julie Bishop (@JulieBishopMP) October 21, 2015
The Senate has been schooled.