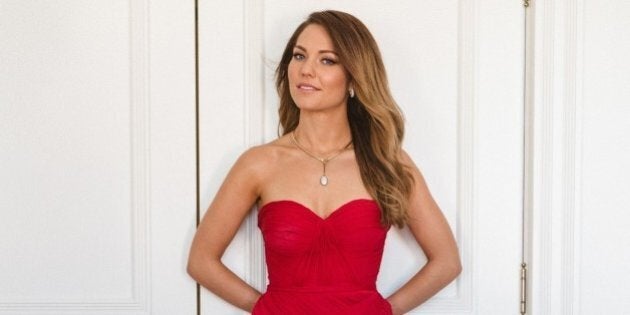 The Bachelorette star Sam Frost has spoken of her disappointment that a photographer would take images of her and beau Sasha Mielczarek through a 10th floor hotel window, revealing them just hours before the show's finale revealed the couple was together.
Fans were left disappointed on Thursday night after the images were published and shared via social media, spoiling the final result viewers had been waiting five weeks for.
Images of Frost and Mielczarek kissing and hugging in a Sydney hotel room on Thursday morning were published to the Daily Mail Australia's website, which later led to the television network, Channel 10 seeking and receiving an injunction order against the British-owned media outlet to remove the article from its website and social media channels several hours later.
Frost said on Friday she was "gutted" when she learnt of the article through her own Instagram account, after some of her followers were saying the show was ruined, leading her to check the tabloid website for herself.
"There was no curtains. We were doing the shoot for the photos that were released today, so I just thought, someone's tipped someone off. It was awful," said Frost.
Mielczarek said when he learnt of the pictures, he called Sam straight away.
"She was hysterical, the poor thing, and the crew and everyone who worked so hard... and for it to be spoiled two hours before..." said Mielczarek.
Both Frost and Mielczarek took to their own Instagram accounts on Thursday night after the show, posting the very first image as a couple after having to keep their secret for months.
Frost wrote, "Finally found the one I've been searching my whole life for... Sasha Dean, I love you so much".
On Friday morning, Network Ten confirmed a season two of The Bachelorette Australia will be happening in 2016.
"We cannot wait to start production on the second series and give Australia another wonderful love story," said Network Ten Chief Programming Officer, Beverley McGarvey.