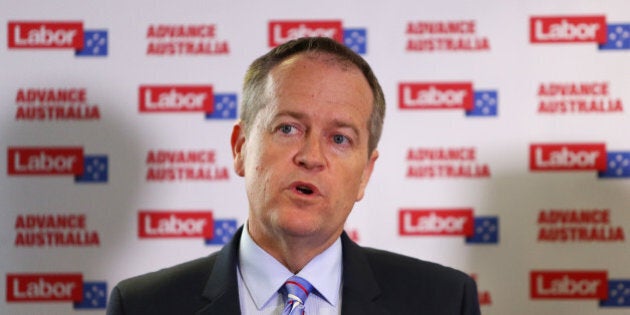 Opposition leader Bill Shorten has called on Prime Minister Malcolm Turnbull to crack down on workplace injuries, boost the minimum wage and overhaul enterprise bargaining in an impassioned speech to Labor faithful in Adelaide.
Speaking on Saturday, Shorten challenged Turnbull on workplace relations, saying he wanted to set an "industrial relations test" for the PM.
"How about reducing serious injuries and fatalities at work, including real action on industrial diseases, including asbestos, and mesothelioma," Shorten told the South Australia Labor conference.
"Right now the minimum wage is falling further behind average wages. It is already hard enough for Australians to pay the bills and make ends meet.
"How about admitting that the current system of enterprise bargaining and low paid bargaining is proving disappointingly ineffective at setting industry standards."
The comments come after Turnbull reportedly flagged tougher rules to stop union corruption and act on the findings of the union royal commission.
Shorten also urged Turnbull to clamp down on "sham contracting" and do more to protect the around 800,000 workers on temporary visas.
Jobs were another focus for Shorten, who said unemployment remained too high.
The latest official jobs data, released earlier this month, showed the unemployment rate steady at 6.2 per cent, with round 13,900 full-time jobs lost in September.
"Unemployment is too high," Shorten said.
"Growth is too slow. Insecurity at work is too common. Inequality is at a 75-year high. It is tougher than ever before for young people to find a job or indeed form a deposit for a house."
The wide-ranging speech also spruiked Labor's healthcare and climate change credentials, with Shorten saying the ALP was "not part of the book-burning club of climate change".
He also hit out at the tax system, labeling it a "leaky bucket".
"It is riddled with holes, allowing some people to pay less tax on particular types of income or pay it later, than they would if they had just earned it as wages, like the vast bulk of the Australian people.
"We know that these holes are disproportionately used by the highest income earners in this country."
The comments on tax follow Labor attacks on the Prime Minister's investments, some of which they say are located in the Cayman Islands where the corporate tax rate is zero.
The address also follows speculation that pressure could be mounting on Shorten's leadership after disappointing polling was released this week.
Monday's Fairfax-Ipsos poll showed a big jump in the Liberals' two-party preferred vote and a dip in Shorten's rating as preferred PM.