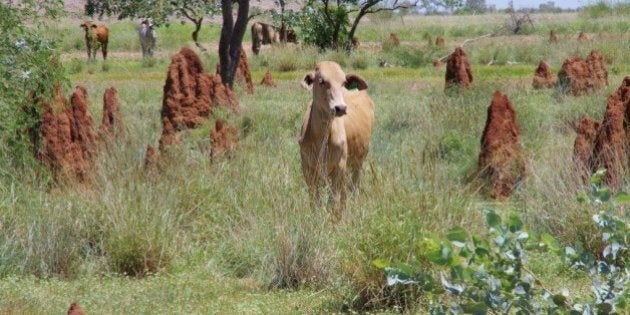 There are a few essential tools most farmers have in their arsenal -- ute, shovel, gun, radio. It's time to add "satellite" to that toolkit.
Since 2011, researchers across the northern parts of rural Australia have been trialling satellite technology to aid farmers on immensely large properties in tracking their livestock and monitoring the condition of their pastures. With some properties over 2000 square kilometres in size -- larger than Hong Kong, Singapore, Tonga and Bahrain -- farmers simply cannot visit every part of their properties on a regular basis, or know where their herds of cattle are at every moment.
The Precision Pastoral Management Systems (PPMS), developed by the Cooperative Research Centre for Remote Economic Participation (CRC-REP), use satellite technology which is then analysed and beamed back to a farmer's phone or computer, to help them keep track of their herds, to monitor their weight and health, or to watch over their fields.
"It is very hard and time-consuming to go out and measure pasture data or cattle every week. It is beyond the scope of most stations so many producers aren't doing it now," said Sally Leigo, research leader for the PPMS project.
"This is really a game changer. Farmers now have objective data. Most producers look at this by eye and the eyes can lie. You might not see the problems slowly happening on the property, but now they can identify when the pasture is running out or the cattle are losing weight."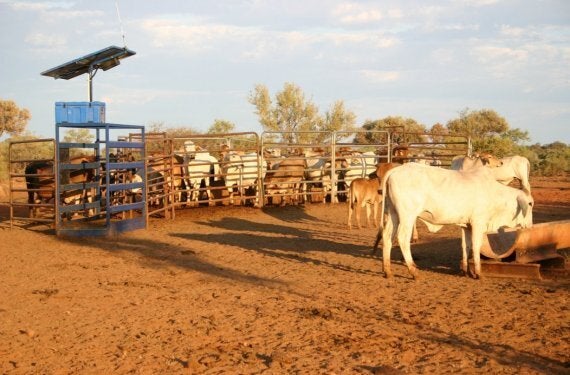 Leigo told The Huffington Post Australia the technology is being roadtested by two properties in the Northern Territory, two in Queensland and one in Western Australia. Livestock are weighed on special weighing platforms installed around water sources, with information from the platform then linking with data from electronic tags attached to the animal which is then sent to a cloud system administered by the CRC-REP. Pasture data is collected by a satellite which passes over Australia every day, with snapshots taken by the spacecraft analysed to compare the green of the grass.
The data is collected every day, with analysis done by the CRC-REP and sent to the farmer weekly on their phone or computer. It cancels out the need for farmers to travel huge distances and spend hours or even days monitoring their properties, with much of the information able to be read in the comfort of their own home.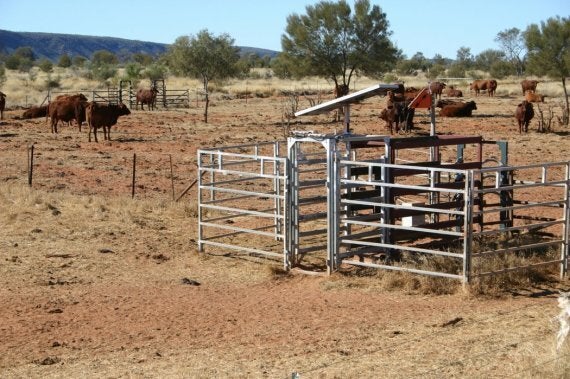 "We've been working out the costs savings these advances could have. We'd initially modelled that it would save an average of $70,000 for each property, but beef prices have gone up since then so it could be even higher," Leigo said.
Ben Hayes' family runs the Undoolya Station near Alice Springs, one of the properties participating in the trial. He said the technology was still being perfected but he was excited about its potential.
"We've got massive big paddocks. I've just put 1000-odd steers in one of our paddocks. We've got 5000 total, our land is about 1400 square kilometres," he said.
"The technology is a benefit. I still like to have a visual look, to see how they're going, but the technology will let you know whether each individual animal is gaining or losing weight. It's very interesting."
He said the weighing platforms also played a useful role in separating animals for sale, not just monitoring their weight.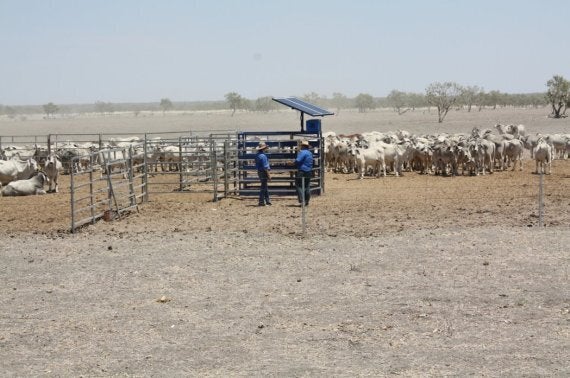 "When a market needs beef, somebody rings looking for cattle at a certain weight. This lets me know how many I have at a certain weight, so the ones at a certain weight can be put into a holding paddock without being touched by anyone," he said.
"I used to spend a day mustering a whole paddock, walking 10 kilometres processing the ones I need, then trucking them. It was a three day operation, but now we can be at home watching TV instead."
"Once it's going, it will be very beneficial. Once they iron out the kinks. it will be a ball tearer."
Leigo said the company was still investigating how the technology could be rolled out on a larger scale, as well as how it would be commercialised.
"We're aiming to commercialise the technology by the end of 2017. We need to keep costs down to get producers onboard; whether the software is provided for free and they pay for how much analysis done, whether we provide all the analysis and pay a licensing fee, or whether it's a one-time cost," she said.
"This coming summer will be our last data collection or field work season. Then we'll look at communicating to industry and the wider public around our findings through 2016 and ready for 2017."