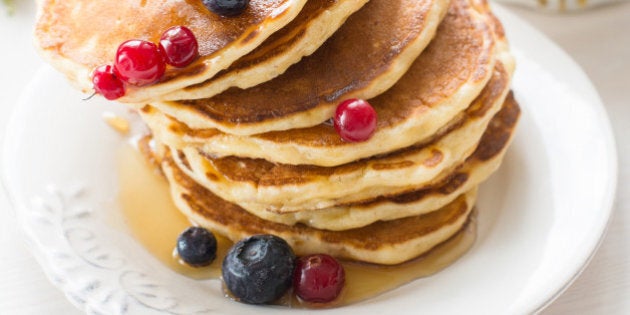 Nothing says the weekend quite like a stack of hot pancakes for breakfast, though indulging too often probably isn't the best idea. Excellent news then, that we personally road-tested this protein pancake recipe from I Quit Sugar and can vouch for its awesomeness -- both from a taste and health perspective.
1/2 cup almond meal
3 tablespoons vanilla protein powder
1 teaspoon baking powder
1 teaspoon ground cinnamon
1 tablespoon chia seeds
2 eggs, lightly beaten
2 tablespoons coconut milk (or milk of your choice)
2 tablespoons of whey (optional, use extra milk if you prefer)
Coconut oil
To serve: yoghurt, blueberries, coconut flakes and cinnamon.
Combine protein powder, almond meal, baking powder, cinnamon and chia seeds in a bowl. Add eggs, milk and whey (if using) and mix well.
Heat coconut oil in a frying pan. Add pancake batter in batches until pancakes are cooked through and golden on both sides.
Top pancakes with yoghurt, blueberries, coconut flakes and cinnamon.
Note: These protein pancakes are gluten free, dairy free (if you skip the yoghurt), sugar free and grain free. If you're vegan, simply omit the eggs and soak 2 tablespoons of chia seeds in 1/2 cup water for at least 10 minutes and then add to pancake batter.