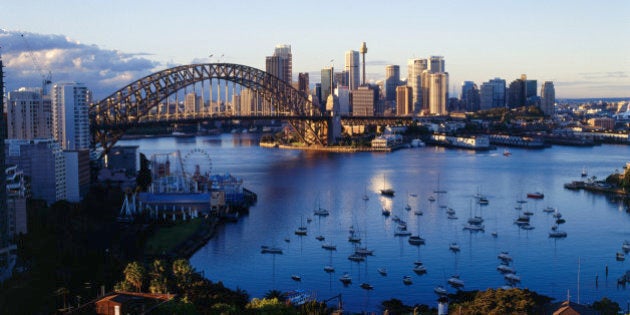 Sydney is awesome. The warmer climate, the lifestyle, THE BEACHES! And we haven't even got to the job opportunities yet. But with the picturesque harbour, glorious sunshine and what feels like, a Messina bar on every corner, there are some pitfalls that come with the Eastern state too. So, as an FYI, here they are.
Ordering a schnitty and chips is a rite of passage for Aussies -- after all, it's soul food at its best. But when ordering the hearty dish in Sydney -- expect ungenerous french fries instead of the chunky, wholesome chips you've become accustomed to. Here, there is no soaking up the juicy gravy with the crunchy, thick chips. No, no -- your schnitty comes with a side of fries stolen out of a kid's Happy Meal.
This one is a major novelty for interstaters. While most have conquered the double decker bus in London -- probably during a gap year -- none have experienced the outright joy of a double-decker train. Sure, Melbourne and Adelaide might have trams, but that doesn't really come close to top level views of Circular Quay on your daily commute.
Heading out on the town? Planning on a big one? Best to have a few cheeky shots before the club -- because the new lockout laws in Sydney's Kings Cross and city means no shots after midnight. Because, shots before midnight make total sense. Naaaawwt.
If you're from Queensland you'll already be familiar with the annual betting game which takes place on ANZAC Day -- the only day of the year you're legally allowed to bet on the flipping of coins -- and one you simply cannot miss. Plan your arrival time early though, the pub queues are off the charts come midday.
In most Australian states, the sausage in bread (with onions and a heap of tomato sauce) is basically compulsory. Especially on Saturday morning Bunnings trips and Election Day. But in Sydney, they've gone one up (or so they think) by ditching the humble white Tip Top loaf for a "fancy" HOTDOG BUN. Really? Who, in their right mind would want a sausage sizzle that's got three times the bread as the meat? Ludicrous.
Free Dress Day is called "Mufti Day"
Remember in primary school how sometimes you didn't have to wear your school uniform on Fridays? Most schools call it Free Dress Day while some -- Casual Dress Day. In Sydney, it's Mufti Day.
While most people criticise Melbourne for their hook turns, Sydney peeps have the joy of one way streets. Made the wrong turn? Sorry, no U-ies here -- good luck ending up on the other side of the bridge -- and enjoy that toll, too! To be fair though, when the view's this good, life is pretty great.