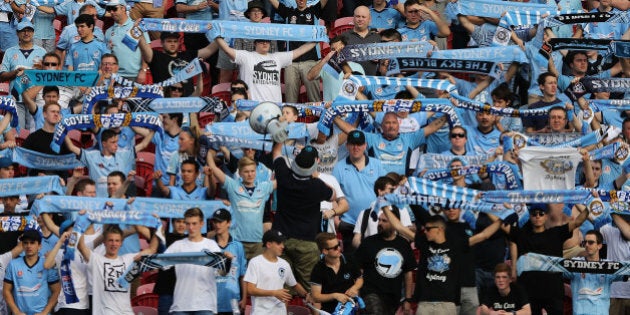 As if the A-League's sold-out Sydney derby needed any more fuel, Sydney FC's supporter group The Cove had its tifo stolen in a warehouse break-in on Friday night.
Only 24 hours before the Sky Blues were to face cross-town rivals Western Sydney at Allianz Stadium on Saturday night, the warehouse in which the tifo was held was broken into and "was the only thing stolen".
The Cove took to social media about the break-in and theft in a Facebook post alluding to suspicion.
"As everyone knows, The Cove produce the best Tifo in the A-League and tonight's derby was to be no exception. Unfortunately, the warehouse where the Tifo for tonight's derby was stored was broken into last night and the tifo was the only thing stolen," the post read.
"It's disappointing that those who cannot compete with our displays, our style, our ideas and our innovations choose to diminish a great derby occasion with petty, small-minded acts of theft, rather than lift their game and contribute to the atmosphere of these great events."
However, no specific accusations were made in the Facebook post:
At least 40,000 fans are expected to fill Sydney FC's home ground at Moore Park tonight, with The Cove and Western Sydney Wanderers' supporter group The Red and Black Bloc to provide some of Australian sport's best atmosphere.