10 years ago Cedar Anderson looked at a beehive and thought there must be an easier way to extract honey straight from the hive that was less stressful on the bees.
And so, after roping in his father Stuart, he set about the process of developing prototypes in their Byron Bay shed to make it happen -- eventually coming up with the concept of the Flow Hive, a plastic frame that sits inside a conventional beehive.
With the pull of a lever, honey simply drains into a jar.
The story of the third-generation beekeeper whose life changed overnight will be told on Monday night's Australian Story.
Australian Story: Going with the Flow – Airs Monday, October 26 at 8pm on ABC
"People say inventors forget everything when they see their invention work for the first time. They forget the whole world around them. We had invented the beekeeper's dream, "Anderson told ABC's Australian Story.
But it wasn't until Anderson put the invention out to the world -- on a crowdfunding site -- that he realised just how big the demand for his product was.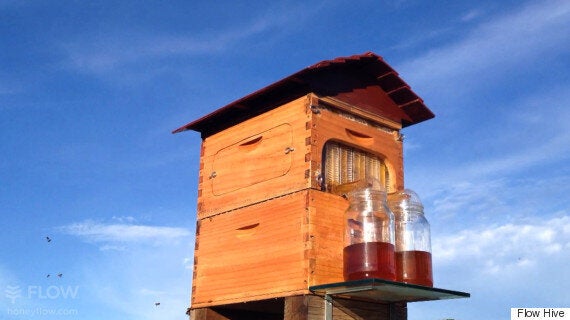 The video of their prototype went viral, quickly attracting US$12.2 million in advance orders -- a far cry from their original target of $70, 000 and a media storm beyond Anderson's wildest dreams.
"We overwhelmed one of the biggest crowdfunding platforms in the world. We had people screaming out, 'take our money!' People didn't even know what they were buying. It was a frenzy. It was like a rock concert, we were just shocked," Yari McGrorie, a colleague said.
Now, with the monumental task of manufacturing 24,000 orders and exporting them to more than 130 countries -- Anderson and his father are faced with the challenges that come with running a multi-million dollar company -- including logistics and the basic need for an office, something Anderson went happily without before the campaign took off.
Australian Story: Going with the Flow – Airs Monday, October 26 at 8pm on ABC