ARIS MESSINIS via Getty Images
Harrowing footage has emerged on social media of a group of women being brutally tortured in the Highlands of Papua New Guinea while being accused of witchcraft.
In the video -- which is too disturbing to publish but has been seen by The Huffington Post Australia -- a naked woman is tied up on the ground with what appears to be wounds all over her body.
GRAPHIC WARNING: Two still images from the video appear in this post. Readers may find the images disturbing.
The men surround her and one of them says, "Burn her with the wire," as she pleads for her release. Three other women are tied to the ground, and a man hacks at one woman's hair with a machete.
The PNG word sanguma, meaning sorcery, is heard at least once as one of the women begs "her son" to release her.
It is believed one of the women is dead and two were forced to flee after the attack in Eastern Enga Province in PNG's Highlands over a month ago, however this has not been independently verified.
Enga Province Catholic Priest and secretary of the Commission for Social Concerns of the PNG Catholic Bishop's Conference, Father Philip Gibbs, said he hoped the video raised awareness of the violence.
"It is not simply a plea to the government," he told HuffPost Australia.
"I think that every concerned person needs to be involved and I am circulating it to help raise that concern."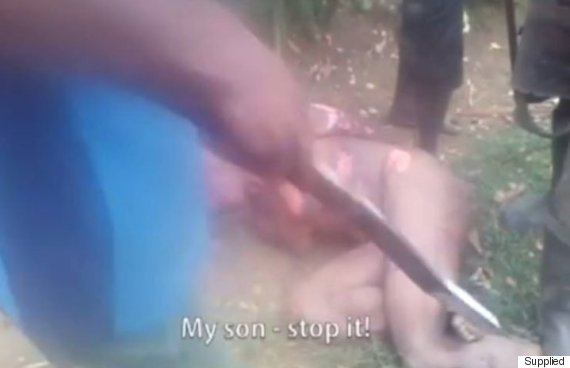 There are grim reports, however, the video is being shared among school children with approval.
In a Facebook post which shared an edited and subtitled version of the video, Father Gibbs said the women are accused of having removed and eaten a man's heart, causing him to grow gravely ill.
The man's relatives, who also appear to be related to the women, ask the women where they put the man's heart. The women reply that they know nothing about it and the torture continues.
"In such a situation, how can the accused women prove their innocence? In a climate of fear and suspicion who will support them? Did these women survive the ordeal or were they -- like some others -- killed," Fr Gibbs wrote.
"Though part of a terrible crime, in some ways the young men trying to find the heart of their brother are also casualties in a system that breeds suspicion and violence."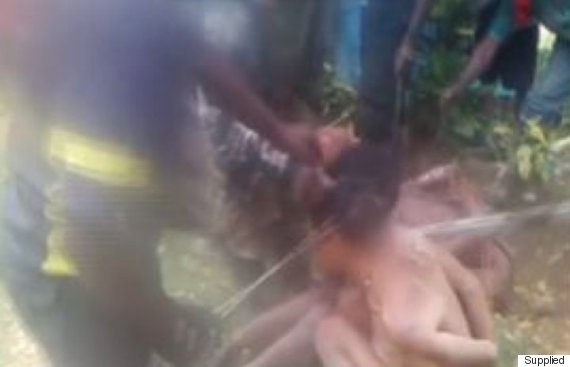 The PNG Government is developing a national action plan against "sorcery accusation" violence, which calls for wide-ranging health, education and legal frameworks for tacking sorcery allegations.
But observers fear it is not translating into practical outcomes.
Enga-based community activist, Ruth Kissam, told HuffPost Australia that sorcery accusations are leading to an internal migration crisis as women and families try to move away from accusers.
Kissam said before moving to the U.S. in August, she personally helped three women escape "sorcery violence".
"They accuse you of little things, they talk about you, and before you know it there's a mob lynch that goes on," she said from the U.S., where she is undertaking a fellowship.
"And if someone dies, and if someone that is connected, that has a lot of male friends, or relatives, or comes from the family that has more numbers in the tribe or the clan, then they pick on the ones they have been targeting with the accusations."
With no safe houses and little infrastructure to speak of in rural areas, accused families and women often have nowhere to go, she said.
Both Kissam and Lutheran minister Anton Lutz, who also lives in Enga, said that incidents of sorcery allegations were spreading.
"It's become a viral idea throughout the Highlands, so why that's happening I'm not sure," Lutz told HuffPost Australia in September.
"My hunch is women are very vulnerable because they move away from fathers and uncles and brothers and cousins to go and live with their husbands -- and that may be across cultural boundaries.
"It's often the husband's family who will turn on a woman who has left her people to come live with them."
Kissam, who praised the level of concern and efforts of the local police hierarchy in Enga, said people accused of sorcery need to be able to report to authorities as a safety measure -- to let potential attackers know authorities are on to them.
But the long arm of the law doesn't stretch far in rural PNG, where many villages take it upon themselves to mete out "justice".
yet another excuse for killing women who are "different" in #PNG#witchburning#sorceryhttps://t.co/9FSoBmVbJH

— funk cutter (@funkcutter) October 23, 2015
There have been a number of high profile sorcery-related killings in PNG in recent years.
In early 2013, 20-year-old mother Kepari Leniata was tortured with hot irons, doused with petrol and burned alive in front of a crowd in Mt Hagen, PNG's third largest town.
She was tortured along with two other women, and was accused of causing the death of a child.
Images of the aftermath of her murder were beamed around the world at the time, sparking outrage in the country and without.
"These are becoming all too common in certain parts of the country. It is reprehensible that women, the old and the weak in our society should be targeted for alleged sorcery or wrongs that they actually have nothing to do with," Prime Minister Peter O'Neill said at the time.
Later that year and more than 1000 kilometres away in the Autonomous Region of Bougainville, former teacher Helen Rumbali was tortured and beheaded after being accused of witchcraft.
Her sister Nikono and Nikono's two teenage daughters were also kidnapped by the armed mob and taken to a village, where they were tortured for several days. Nikono was left in a critical condition.
A little over a month later, PNG's parliament repealed its 1971 Sorcery Act, which allowed for reduced sentences for assaults or murders if the perpetrators said their victim had been committing acts of sorcery.
Rights groups such as Amnesty International have urged the government to do more to reduce the incidence of violence against alleged sorcerers, The Australian reported.
In May 2015 a young woman known only as Mifila was hacked to death by a group of men in a remote stretch of Enga province.
PNG police are understood to be aware of the latest incident, but they did not reply to queries from HuffPost Australia before going to press.
Comment has also been sought from the PNG government.