solar22 via Getty Images
Pimples. No one likes them, though most of us will get them from time to time.
Generally reserved for pubescent teanagers, adults are now experiencing more acne than ever recorded before due to a myriad of lifestyle factors, including stress.
Thankfully the beauty industry heard the cries of grown men and women who were seeking effective skincare solutions to tackle spots while still meeting their other skin care needs in relation to anti ageing. Brands such as Dermalogica, Paula's Choice and SkinCeuticals offer ranges for problematic skin, so grownups don't have to resort to teenage specific products.
Still, when the mother of all spots crops up, it's so tempting to squeeze, though experts always advise against it.
"Any skin expert will advise you to never squeeze your spots due to the damage you can do," Emma Hobson, education manager at The International Dermal Institute told The Huffington Post Australia.
"Because a spot is red, inflamed, sore to the touch and filled with bacteria, when you squeeze it you can easily spread the infection and cause damage to the very delicate skin within the follicle, and the skin surrounding the spot. As a result you'll likely end up having even more spots but the worst thing of all is possibly a scar too."
This is all fine in theory, but if you have a large whitehead that demands your attention, there is a safer way to squeeze to minimise the spread of bacteria and the likelihood of scarring.
"As a skin expert I can't condone squeezing a spot, but if you do, make sure your skin is thoroughly cleansed so it is free of makeup. You must have very clean hands and ensure you use a tissue between your fingers and the spot -- don't just dive in with your nails for the big squeeze (this helps reduces the chances of scarring)," said Hobson.
A hot shower beforehand will also help, as the heat and steam from the warm water will aid in softening the skin and opening the pores, making the extraction easier. Always push with the ball of your finger, not with your nails, and be gentle -- if it doesn't come out easily it's not ready. Don't force it -- and don't pick!
"My advice is to use a specialised spot clearing treatment product. They usually contain acne fighting ingredients such as Zinc, Colloidal Silver, Azelaic Acid, Benzoyl Peroxide and Lactobacillus Ferment coupled with a good dose of anti-inflammatories such as Tea Tree Oil. They are placed directly onto a spot which will heal them rapidly and effectively," said Hobson.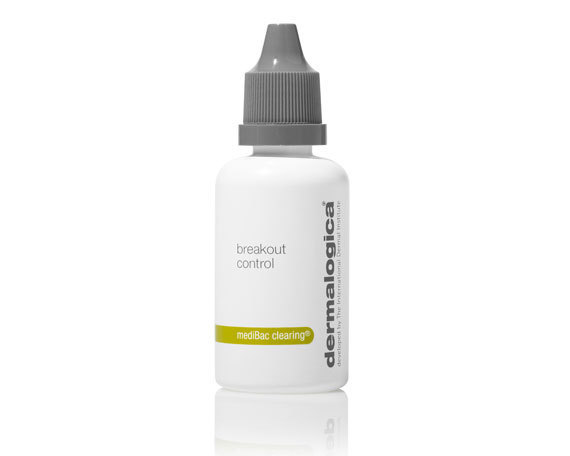 Dermalogica MediBac Breakout Control, $66
"Please don't do anything radical and use something crazy like methylated spirits -- all it will do is make the skin very red and irritated."
There is no need to avoid makeup, though one specifically formulated for acneic skin will help heal while it covers.
"I'd suggest applying a tinted treatment concealer -- they are a multi action product that's not only a natural mineral makeup which will disguise the spot, but they also double up as a leave on intensive spot fighting/clearing product," said Hobson.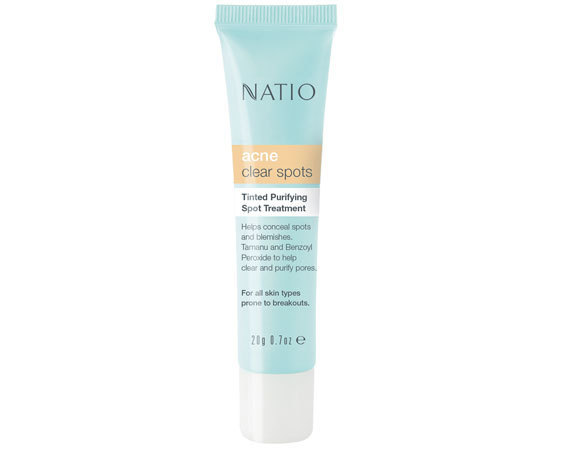 Natio Tinted Purifying Spot Treatment, $9.95
Lastly, be diligent with washing any makeup brushes that come in contact with spots, as they're a breeding ground for bacteria. Use a brush cleanser with warm water, then leave brushes in a sunny spot (like the windowsill) to dry, as the sun helps kill off any remaining bacteria.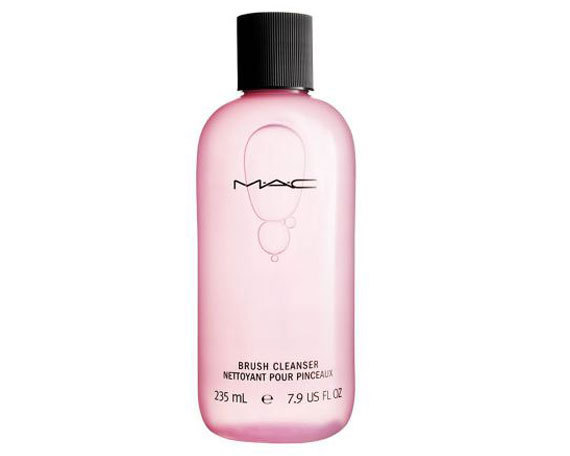 MAC Brush Cleanser, $20