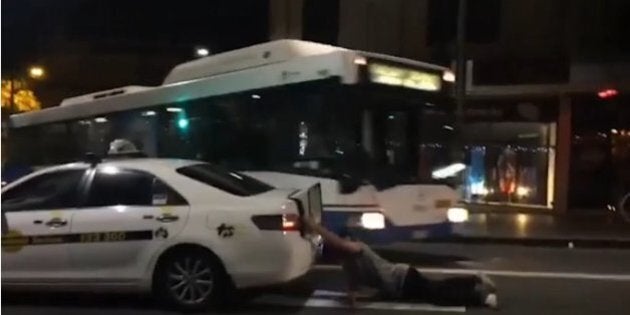 Police have said they are not amused by a man who was filmed clinging to the rear of a taxi as it drove through a Sydney suburb overnight, saying it was "not a laughing matter".
An unbelievable video posted to Instagram last night shows a man clinging onto the back of a Sydney taxi, being dragged on his stomach through an intersection and around two corners before losing his grip and being flung several metres. The Jackass-wannabe then springs to his feet, raising his arms in triumph.
The clip was shared by Australian meme aggregator Brown Cardigan, gaining thousands of views overnight, but it appears to have originally been uploaded by a Sydney man (who has since changed his Instagram page to private) who captioned the video "old mate mud flap."
The video appears to have been captured in the inner-city suburb of Redfern, at the intersection of Redfern and Regent streets. The taxi driver in the clip appears to have no idea the man is hanging onto the back of his vehicle.
The NSW Police Traffic and Highway Patrol told media on Tuesday they were not amused.