Thomas Barwick via Getty Images
As an award-winning National Geographic photographer, Stephen Alvarez knows a thing or two about taking a good photo.
He also knows the practice of photography -- and how we go about sharing our images -- is changing rapidly. So, when National Geographic came to him with an assignment pitch -- to photograph the Seven Wonders of the World using a Microsoft Lumia smartphone -- he readily accepted.
"I took the job somewhat incredulously because I am a National Geographic photographer, and it's all about using the best equipment and using whatever you need to get the shot," Alvarez told The Huffington Post Australia. "But I was curious about where the industry is going.
"Then, I was on this call where [my colleague] said -- 'by the way, we are going to publish one of your images on the inside cover of National Geographic, and it will have to go across three pages and it's the 125th edition. So your picture will go there and it will be shot on this phone you haven't seen before."
"I almost threw up. I was thinking, 'my friends are going to see this -- what if it doesn't work?'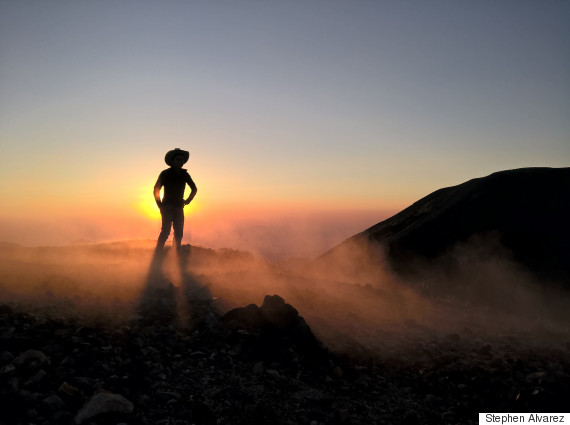 Luckily for Alvarez (and his reputation) -- turns out you can take some great pictures using just your smartphone, and you don't even need filters.
While he was in Australia to shoot the Great Barrier Reef for the '7 Wonders' project, Alvarez met up with HuffPost Australia to share some of his expert knowledge.
The Rule of Thirds
If you're anything like this reporter, you might think the subject of your photograph should be smack-bang in the middle of the frame. WRONG. According to Alvarez, your image will be far better if you imagine dividing your screen into thirds, and putting the subject on one of the invisible dividing lines.
"You can hide anything in the middle of the frame," Alvarez said. "But if you move something out to the outside, they become more and more important. It's just the way your eye works.
"People tend to put subjects in the middle but if you just move the frame a little bit, it will be a better shot.
"Photographs derive power from their edges."
Flip your phone
Pretty standard, this one, but apparently it's a mistake we're all making.
"[Vertically] is the natural way to hold your phone, but you don't see the world that way -- you see it horizontally," Alvarez said.
"So turn your phone around."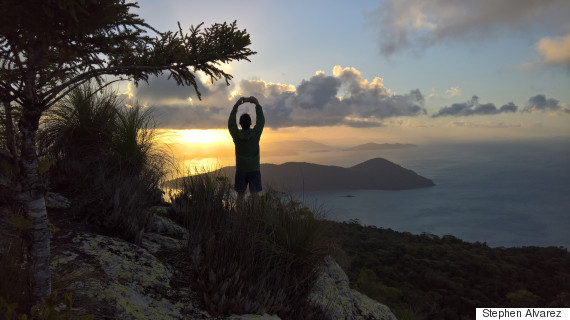 Support is important, but also try new angles
Used to taking a photo with your arms extended out in front of you? Instead, opt for a more supportive stance, or mix it up by trying new angles.
"I like to keep the camera stable by keeping it close to my body. I can shoot much slower that way and really focus on setting up the shot," Alvarez said.
"In saying that, I'm famous for sticking my arm out a moving train to shoot a picture but it's not the most stable way to shoot.
"One of the great things about using a phone as a camera is that, instead of a great big heavy thing we have this itty bitty light thing, which makes it easy to shoot from many angles.
"We all know what the world looks like from about 5"1 to 5"9 because that's where we see from, but you can shoot looking down or looking up -- experiment with different angles.
"It makes for a more interesting relationship between the background and the foreground."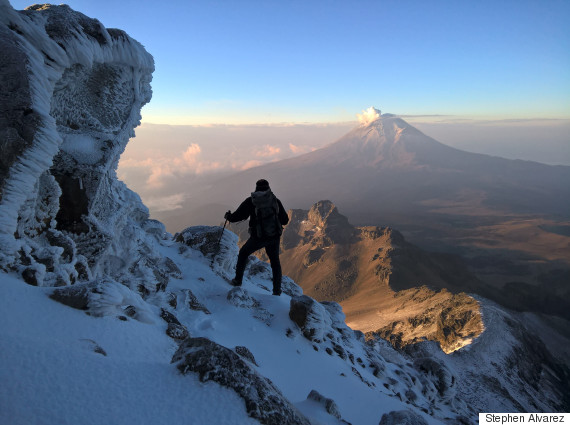 Social media and selfies
"When it comes to social media, less is more," Alvarez said. "I shoot a lot of photographs, but I don't publish all of them.
"People want to see one great picture, they don't want to feel like they've been spammed."
In terms of selfies -- context is key.
"If you are shooting a selfie, people want to know where you are," Alvarez said. "Experiment with what you can include in the background and what angles you can play with."
Filters, sadly, are a no-no in Alvarez's books.
"I like the world as it exists. I don't really use filters. I just shoot the picture and put it up. I prefer to wait for the right light -- I like the combination of good light and perfect moment coming together and I don't feel like I need a filter to make that happen."
Want to know more? Follow Alvarez's journey here.