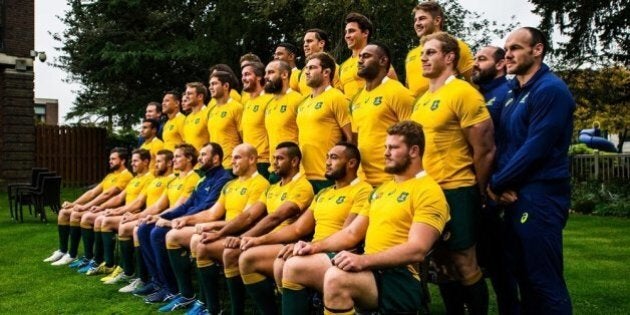 The Wallabies have a truly special way of galvanising the people of Australia.
As we count down to the most anticipated Rugby World Cup final to date, our nation is turning a violent shade of gold in support of an heroic Wallabies side tasked with taking down the All Blacks juggernaut -- on no less than London's grand stage of Twickenham.
In a period of transition for the Wallabies, the people of Australia have rallied behind coach Michael Cheika, who has delivered results far quicker than expected from a team and code that was in utter turmoil 12 months ago.
It was October 18 last year when former coach Ewen McKenzie cut a solemn figure as he walked down the hallway of Brisbane's Suncorp Stadium, having announced his resignation following the Wallabies' Test loss to New Zealand and a text message scandal that engulfed the team.
A year later, and with the six Rugby World Cup victories required to make the decider, our country awaits that 3am AEDT alarm for kick-off.
And as Australia attempts to be the first nation to win three Rugby World Cup titles, a 24-hour countdown kicked off with the iconic Sydney Opera House broadcasting showing its true colours:
It was followed by former Prime Minister John Howard delivering this video message encouraging Australians to get out and walk in support of the team as he so famously did while at the helm of politics:
The Aussie sports stars weighed in, from Formula One driver Daniel Ricciardo:
To former world No.1 golfer Greg Norman:
The Shark was joined by current world No.1 golfer, Aussie Jason Day:
And the evergreen legend of cricket, Shane Warne:
Hollywood actor Russell Crowe provided US broadcast times for keen Americans wanting to watch this epic trans-Tasman clash:
And even coffee manufacturer Nespresso offered its support (it'd be nice if Nespresso offered coffee too -- we'll need it):