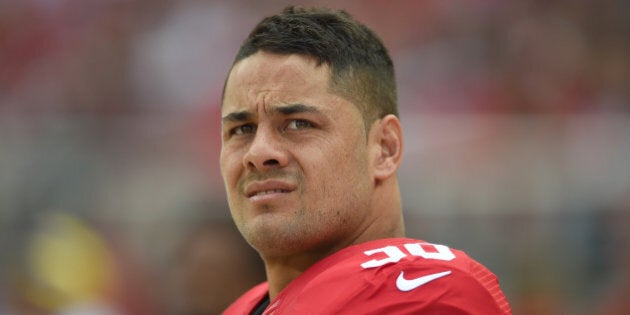 The San Francisco 49ers have cut Jarryd Hayne from the team's active roster, fueling speculation that the rugby league convert's NFL dream may be over.
The 49ers announced on Sunday that they had promoted running back Kendall Gaskins from the practice squad, while waiving Hayne.
There had been concerns that Hayne would struggle to hold his position in the team after he was left out of the team in its recent 20-3 loss against the Seattle Seahawks.
Hayne dazzled for the 49ers during the NFL preseason, but struggled to make an impact in the regular season, including a number of fumbles as punt returner.
Hayne was a superstar in the NRL and his story has captivated Australian sports fans, who had hoped the 27-year-old could live his dream and make it in one of the toughest competitions on the planet.
In 6 games this NRL season, Hayne recorded 8 carries for 25 yards and returned 8 punts for 76 yards on special teams.
Social media quickly went into overdrive following the announcement.
Hayne's US agent, Jack Bechta, indicated his client's future would be clearer after the weekend, tweeting that "Jarryd will most likely be back to work on Mon or Tues either with the Niners or another team".
Hayne also took to Twitter, wishing the 49ers well for their next hit out against the St Louis Rams.