Martin Rogers via Getty Images
There's nothing quite like some alfresco dining on a balmy evening. That is, unless you're sitting on a milk crate next to a cobweb-covered barbecue with a dead pot plant at your feet.
With summer just around the corner, now is the time to give your balcony a bit of an overhaul -- no matter how small it might be.
In order to get you started, we spoke to editor/publisher of Interiors Addict Jen Bishop for her advice on how to best revamp your outdoor space.
"There are loads of ways to maximise your balcony and create a cosy space, even if it's only big enough for two," Bishop told The Huffington Post Australia.
"Think about a folding table and chairs for two, so you can lean it against a wall when you need a bit more space, perhaps when barbecuing or standing around with a drink.
"Hanging vertical gardens are a great way to add greenery without taking up any floor space, and you can also get trough planters which hook over your balcony railings, saving floor space again and adding greenery and a little privacy.
"If your balcony has a terrible floor, consider putting down a floating timber floor (IKEA do a great, affordable tile version), an outdoor rug or even faux grass for a bit of fun. Add some interest with solar lights or battery operated candles -- I like the plain white ones from Enjoy Lighting, they're very convincing!"
In terms of decoration, greenery is a good way to go, and according to Bishop, you don't even need to be a skilled gardener.
"I don't have that thing they call a green thumb so I recommend succulents and cacti. Not only are they cool and sculptural looking, they're almost impossible to kill! You can create some great looking arrangements in cool pots," Bishop said.
"My favourite outdoor pots are the lightweight and beautifully designed ones by Design Twins. They'll take any balcony or courtyard up a notch.
"I also love the plant stands by Ivy Muse. These are both Australian brands who design and make here which is always nice to support. If you're on more of a budget you'll be surprised what you can find at your local Bunnings. I've seen some great resin pots there."
In terms of furniture, Bishop recommends looking at some multi-use pieces if you have a smaller area to play with and encourages getting creative with your space
"A bench seat that you can hide and store things in is a great option," Bishop said. "You might put outdoor cushions on the top to make it comfier and then you can store them inside it overnight or if it rains.
"Don't underestimate the colour and interest you can add to an outdoor space with outdoor cushions. It's also a great trick to give the outdoors an indoors, more comfortable vibe.
"It's best to stick to outdoor furniture which is designed to cope with our sometimes harsh Australian weather conditions; often sun can do more damage than rain."
Want to keep your outdoor haven away from prying eyes? Bishop says there are lots of options when it comes to privacy, but renters will need to check with their body corporate before doing anything too drastic.
"If you're in a unit you'll need to check the rules in terms of what you're allowed on your balcony, but awnings, sun parasols and things like bamboo screens can all be used to create privacy," Bishop said.
Check out some of her top picks for your outdoor area below.
IKEA VÄDDÖ table and chairs, $119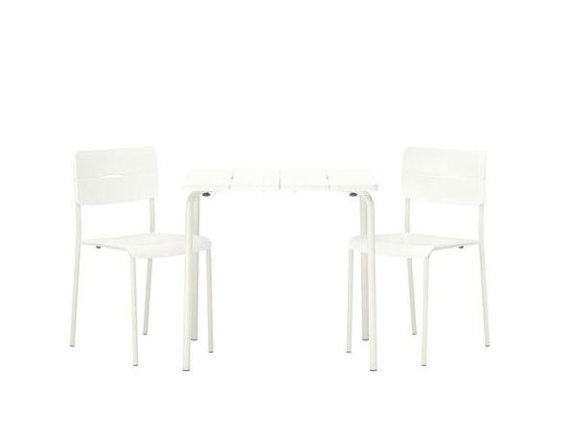 Terrace Mali dining/occasional chair, $450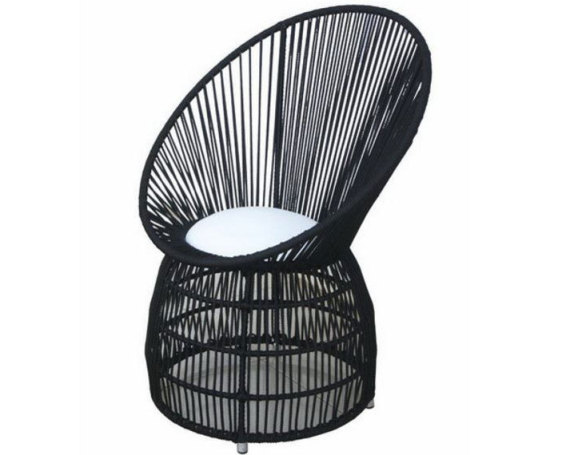 Freedom Gelato 3 Piece Outdoor Package in Spearmint, $179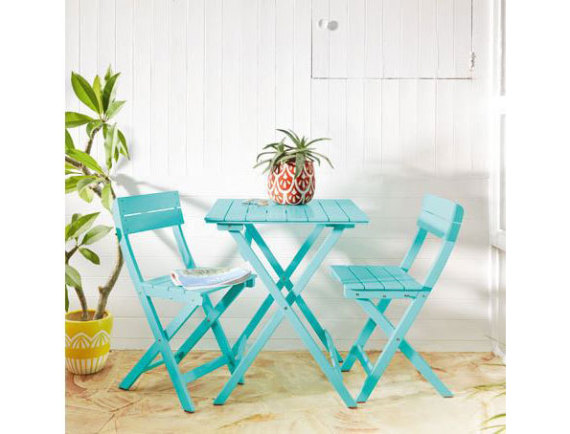 Jasper Compact Outdoor Packages, from $995