Dan Mullan via Getty Images
Protocols to restrict potentially concussed rugby players returning to the field prompted a blow-up on the sideline between Wallabies coach Michael Cheika and player Matt Giteau, in their first major test.
Giteau's World Cup final was over fairly quickly on Saturday at Twickenham -- and he was not happy about it.
Suffering a knock to the head in the 25th minute of the game against New Zealand, Australia's Matt Giteau -- looking dazed and shaken -- walked from the field to undergo a mandatory concussion test. He was immediately ruled out for the rest of the match.
Giteau has had a dream year, returning to the Wallabies fold to become a key player and leader in the team's World Cup campaign -- something which was never on his radar just a year ago.
At half-time in Saturday's Final, Giteau reportedly gave coach Michael Cheika a mouthful about the decision to relegate him to the bench for the remainder of the game.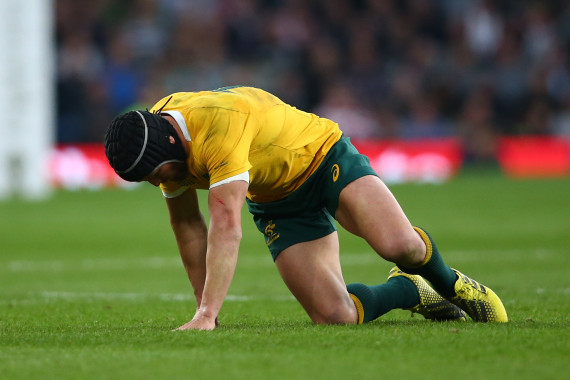 Cheika says however that it was out of his control and under the new World Rugby player welfare protocols regarding concussion there are independent medical staff who adjudicate any instances of head injury and their decision is not contestable.
"The medical referee made that decision, that's how he interpreted the situation. Gits gave me a gobful at half-time as to why he was off. But our hands are tied, there's nothing we can do about it," he said.
Loving #RWC2015 so far? Find out how we are putting player welfare at the forefront with #RecogniseAndRemove

September 21, 2015
In other post World Cup news, reports have emerged that Australia's David Pocock may have been involved in a kicking incident with All Black's captain Richie McCaw.
A report in the NZ Herald has raised questions as to whether Pocock, in attempting to extract his leg from McCaw's grip when the two were tangled in a ruck contest, has accidentally or deliberately made contact with the All Blacks captain's face.
Meanwhile, Pocock has continued in the same vein as many of his team mates to sing the praises of the tournament and the experience of participating in the World Cup.
Really disappointing way for this journey to end but really proud of this group of men. Have loved being part of it. #StrongerAsOne

— David Pocock (@pocockdavid) October 31, 2015
Thank you to every Australian around the world for your support, it was incredible throughout the tournament!!

Congrats to @AllBlacks 👏👏

— Drew Mitchell (@drew_mitchell) October 31, 2015
Well that hurt... congrats @AllBlacks, just too good. Couldn't be more proud of this team and more importantly, to be AUSTRALIAN 💚💛

— Adam Ashley-Cooper (@AdamCoopy) October 31, 2015