Eri Morita via Getty Images
Whether you call them cossies, swimmers, togs or a bathing suit, the only thing worse than shopping for new jeans is shopping for swimwear.
Though, with some small tweaks to the approach, you might just be able to make forking out a fair amount of cash for a small amount of lycra almost bearable.
"The best preparation for swimwear shopping is to allow yourself time and to be in a the right frame of mind. You are not likely to have a great outcome if you are rushed for time or distracted. Be kind to yourself -- a healthy lifestyle in the lead up to summer and some body pampering in the form of exfoliating, moisturising and a pedicure can also help," Megan Hook, Intimate Apparel and Sleepwear buyer for David Jones told The Huffington Post Australia.
It's also advised to wear an easy-to-slip-out-of outfit and shoes, so you're not tying and untying shoes and wriggling in and out of skinny jeans several times, which will likely leave you flustered.
Head to a store with lots of options so you almost have too much choice, as opposed to a single brand with one aesthetic which might not suit your body type.
"If you start with a quick walk through the ranges you will get a feel for which brand has the styles you are looking for and has immediate appeal to you. Then you can start to focus on shapes and fit within that brand. You may find that the style you originally selected is not the best silhouette for your figure type -- but there may be other silhouettes in the same range that are flattering," Hook said.
While being fitted for the right cossie is definitely faster in a bricks and mortar store, online shopping might be the way to go if you're after true privacy and no fluorescent change room lighting.
"The sheer number of swimwear styles and brands that we stock wouldn't fit within your average store!" Mareile Osthus, Buying Director at The Iconic told The Huffington Post Australia.
"When it comes to swimwear,finding your ideal fit can require a bit of trial and error, but we believe the online shopping experience makes it easier. We recommend purchasing several sizes and styles, which means you can skip the fluorescent lit dressing rooms, try them on in the comfort of your own home, and return whatever you won't wear for free, up to 100 days from purchase."
Jenny Fuchs, buyer for Shopbop, agrees. "I think one of the great benefits of online shopping -- especially for swim -- is being able to see how the suit looks on model. Sometimes styles don't have the best hanger appeal, so seeing it on a body definitely helps a customer envision themselves in the suit."
Just keep in mind that even though you're at home, the same hygiene rules apply. Always leave the plastic sticker guard in the crotch until you've decided to keep them, and wear a g-string underneath when trying on.
Now we've psyched ourselves up to shop, what should we be looking for?
"Key shape trends we are seeing our customers respond to this season are high necklines and 70's inspired bikini tops. High necklines in one and two piece styles are balanced with more shoulder exposure and a high leg lines, for a sexy look. Fixed triangle and wrap around bikini tops have been inspired by the 70's Boho looks in fashion and are also very popular," Hook said.
"Underwires are always good for larger busts -- but I would also look for racerback and halter styles for additional support. If you have a smaller bust, wrap tops are a huge trend right now, and are great for creating shape and the adjustability makes them super flattering," Fuchs said.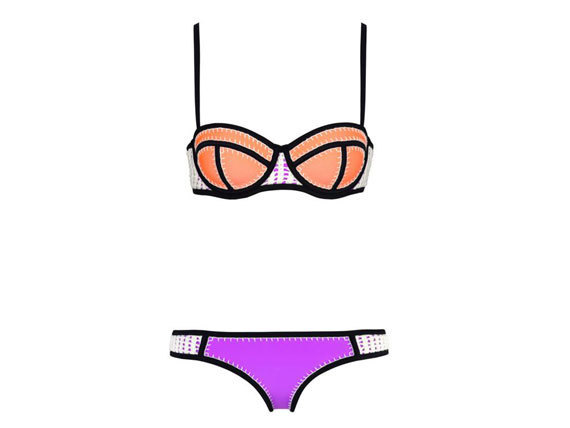 Triangl Swim Brigitte Underwire Bikini in Citrus Berry, $107
More often than not, women will be a different sizes on top than on the bottom, and thankfully most brands offer separates to cater for that.
"Our customers love to 'mix and match' different tops and bottoms, which allows everyone to find the perfect bikini to suit their body types. Plus, you get to customise a swim look that's uniquely yours to showcase your personal style. Shopping online means you can do an initial search across the whole swim category for inspiration, or if you know what you want, sort by colour, style, price point and more to help whittle down the wide range of options," Osthus said.
And as for the classic one piece, they're back this season in a big way, though never really go out of style (meaning if you find a good one you should probably buy 25 and rejoice in never having to endure swimwear shopping again).
"There are one-piece styles to suit every body shape -- keep in mind the best bust silhouette to suit your shape and go from there. Everyone thinks of a simple black one-piece as the go-to elegant solution -- but solid black can be harsh against paler skin. Solid navy is softer and more flattering," Hook said.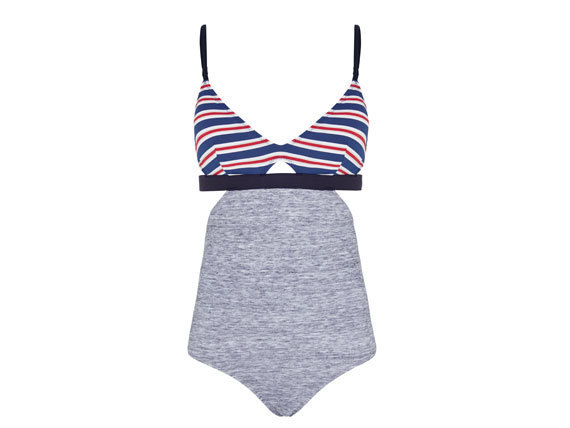 Tigerlily Swimwear Cruise One Piece in French Marine, $199.95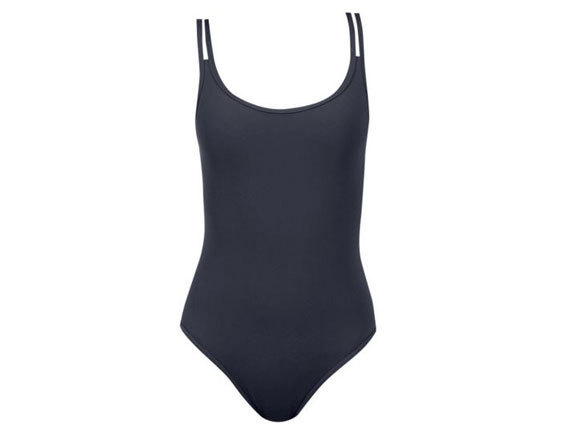 Jets Double Strap Swimsuit in Ink, $115
Now that you've found some styles to suit you, ensure you take care of them correctly so that they last for several seasons.
"Chlorine can fade fabric colours over time, so make sure to give your swimwear at least a quick rinse after each wear. Hand wash your swimwear with a gentle detergent -- you want to make sure the fabric doesn't stretch or catch on other tougher materials like denim or towels, so we'd recommend against using the washing machine altogether," Osthus said.
"Beware of the rough edges of pools and other surfaces -- the delicate fibres in swimwear fabric can get snagged," Hook added.