Fairfax
CANBERRA -- Senior Government Minister Christopher Pyne has contradicted his former leader and party federal director, saying it was accepted in government that it would not have been returned under Tony Abbott and that is why he was removed as Prime Minister.
Pyne delivered the blunt assessment during Wednesday night's episode of the ABC's Kitchen Cabinet, describing the September ousting of Abbott by Malcolm Turnbull was "quite traumatising" and "very difficult for the party".
The leadership coup has proved a popular move for the Government, with its -- and Turnbull's -- standing in all opinion polls improving markedly.
Abbott was not in an election winning position when he lost power, he and senior Liberal Party members insist they had a plan to turn it around.. with Abbott at the helm.
"I was very confident we were on track to win. We had a clear strategy," former Liberal Party federal director Brian Loughnane told the ABC last month.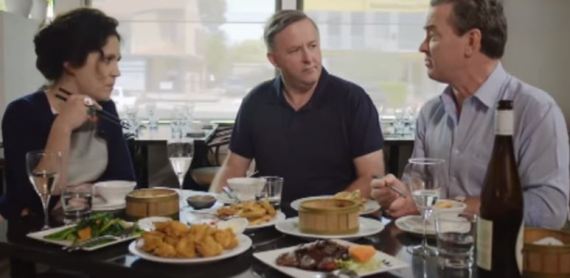 Christopher Pyne joined Anthony Albanese on Annabel Crabb's Kitchen Cabinet.
Abbott has cited internal polling, which he said showed a Canning by-election win (on September 19) for the Government, both with or without him as leader.
"A strong result in Canning -- which is what we were going to get -- would have put paid to this notion that somehow I was un-electable because of the polls," he told Macquarie radio.
But, Pyne said the government party room had a very different view.
"The assessment was made that we weren't going to win the election and the party room made the assessment," the Innovation Minister told the ABC's Annabel Crabb over dumplings.
Asked if that was his assessment as well, Pyne replied it was.
"My assessment was, we were not able to get our message through to the public and it behooved us to act, to stop the CFMEU from having a Cabinet place at the dining table," he said.
The Leader of the Government in the House describes himself as a "great friend of Tony Abbott" and said what took place in September was personally "very, very hard", "very tricky."
Pyne said he had a "frank" discussion with Abbott on the night before the coup and insists he did not expect there was going to be a leadership vote the next day.