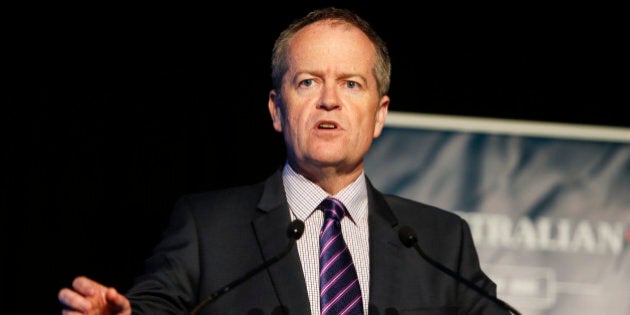 CANBERRA -- Opposition Leader Bill Shorten has declared the Labor Party is "resolutely" opposed to broadening or raising the Goods and Services Tax (GST), saying to do so would not be tax reform.
Addressing the Economic and Social Outlook Conference at Melbourne University on Friday, Shorten attacked the Turnbull Government's renewed optimism and broad move towards changing Australia's tax system as not "innovative, agile or creative".
The Labor Leader made light of the "Turnbullian" vibe being presented by the newish Prime Minister as an antidote to his unpopular predecessor Tony Abbott, and went, himself, in a different direction.
"Sadly, our economy is currently wallowing in mediocrity," Shorten told the Melbourne Institute audience.
"This is not a partisan attack, or a question of talking our country down lest we be accused of some sort of deficit of economic patriotism, of not being in the mood."
"It's about facing up to hard truths so we can make the right decisions. Being honest about the present so we can plan for the future, because our economy is not intrinsically left or right."
But, Shorten's main focus was on tax reform and the Government's new focus on "fairness".
"This government's fixation with increasing the GST shows that when all you've got is a hammer, every problem looks like a nail," Shorten said.
The Labor Leader insists increasing Australia's 10 percent GST is the wrong way to go.
"Labor is resolutely opposed to making Australians pay more for what they need most," Shorten said.
"We will not support increasing a regressive GST that inflicted the heaviest punishment on those least able to afford it."
Labor is also trying to kill off any moves to broaden the base of the GST to cover goods and services such as fresh food and health care.
"We will be patient and clear headed," Morrison said.
But, the Labor Leader has cited modelling by the National Centre for Social and Economic Modelling (NATSEM), commissioned by the peak welfare agency ACOSS, which declared a five percent increase in the GST paired with a five percent income tax cut would hit low income earners hardest.
"This scenario would see almost two thirds of households worse off," he said.
Shorten has now promised there will be a clear choice between the two main parties at the next election on economic reform.
"Tax will be one issue which Labor will have comprehensive policies on," he later told reporters.
"If you vote Labor you won't be getting a GST, if you -- an increase in the GST. If you vote Liberal will you get an increase in the GST."