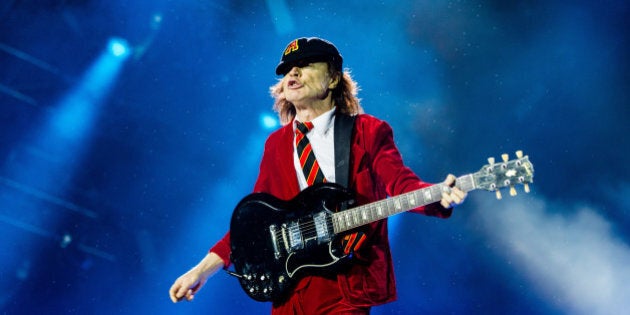 The AC/DC merchandise empire is the first thing you see on approaching the stadium gates. Great looming marquees dot the plaza in the shadow of ANZ Stadium, mammoth tents full of memorabilia: 30 different shirts in various shades of black, black and black; a milliner's studio worth of hats; cloth headbands, badges and flags. Eager vendors hawk their wares, pushing carts stacked high with flashing devil horns and Angus Young-style schoolboy ties.Tonight, AC/DC is more than just a band -- it's a brand. A few older guys sneakily skoll tinnies of Jim Beam and Cola or VB before they scurry inside to find their seats.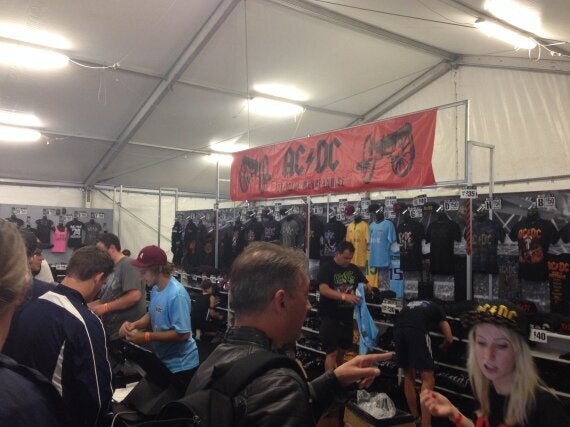 A mighty set of metal devil horns rimmed the massive stage, a 12-foot high AC/DC logo in the dead centre -- just in case you forgot who the night's headliner was. It was a bold move from the rock veterans to bring on Swedish rockers The Hives as a support act, a band who could potentially blow them off the stage without much effort. The white-jacketed, high-kicking, windmilling lunatics have been one of the world's most high-energy and entertaining bands for almost two decades, and despite the rain and the fact seemingly few in the half-full stadium knew who they were, were a more than capable opener.
Slick punk rock riffs, relentless drumming and the sideshow act that is frontman Pelle Almqvist lit up the arena as a light drizzle began to rain down. The Hives are some of the most enthralling musicians in the world helmed by arguably one of the world's greatest frontmen, and in any other setting their set of swaggering rock'n'roll would have killed -- but unfortunately this was a crowd not interested in finding a new band to like. It was a crowd here for the headliner, a crowd who would have been happier to tuck right into the main course and bypass the appetiser altogether. You can't fault a music fan for coming for the main attraction, it's just a little disappointing when openers as electric as The Hives are largely ignored or merely tolerated rather than enjoyed.
As The Hives ended, the covers were thrown off the backline to reveal a bank of 50 Marshall amps. The lights finally dimmed, the only illumination in the stadium the thousands of twinkling red devil horns atop thousands of heads... then a flash of pyrotechnics and smoke as the band launched into 'Rock Or Bust' -- frontman Brian Johnson in customary black attire and a grey flat cap, Angus 45 years out of the classroom but still rocking his school jacket, shorts and tie (albeit all red velvet). At points he looked almost asleep and definitely not up to his frenetic trademark hop-stepping duck walk across the stage... then it would be time for a solo and as if electrified by an unseen battery, he would spark to life and peel off a screaming riff that would tear the balls off rockers half -- even a third -- his age.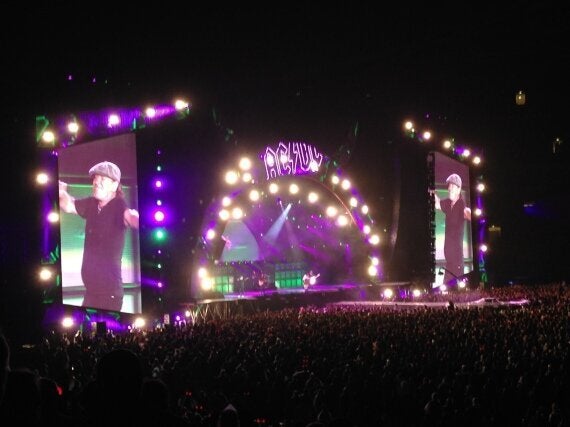 Two newer songs started the set, but 'Back In Black' truly woke the crowd. This was the AC/DC they came for; not the newer albums from a band into their fifth decade, but the classic albums from much younger men. The song seemed most fitting for the night. Most of the crowd, semi-retired rockers themselves, maybe accountants or lawyers or garbage men, "back in black" for one night only: maybe reliving their glory days with old friends, decked out in their threadbare band shirts from tours long-past; maybe bringing their kids along to show them the music their dad was brought up on. AC/DC are past their prime. We know it, they know it. But an AC/DC concert isn't about perfectly recreating the records or youthful energy anymore; it's about reliving a time and a space. It's a back catalogue almost unparalleled in rock history. Their shtick hasn't changed for 30 years, but if it ain't broke, why fix it? They're still having fun -- that means you can too.
The monstrous, primal riff of 'Thunderstruck' is still arguably the highlight of the entire show, its mid-set pairing of 'High Voltage' -- still as urgent and ferocious as when it were first laid to record back in 1975 -- the biggest one-two punch of the evening. It's hard to believe Angus is the last original member of the band, or that they've lost two members since their last tour, Malcolm Young and Phil Rudd, to health and legal issues respectively.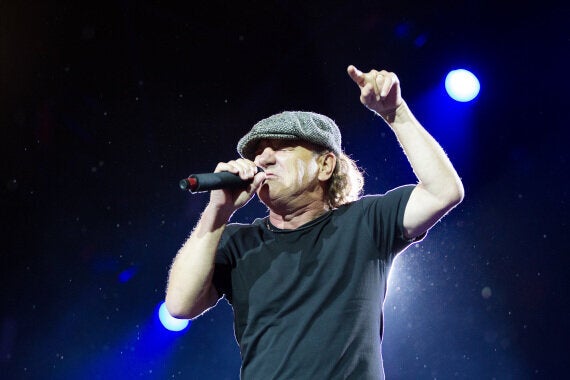 At this stage, since forming as a band in 1973 -- a staggering 42 years ago -- not much about an AC/DC show is a surprise. The customary giant bell still drops from the rafters for 'Hells Bells'. 'TNT' still goes off like a stick of dynamite. People still try to pull out their best drunken sing-a-long karaoke moves during 'You Shook Me All Night Long,' and girls on their boyfriends' shoulders still pull out... well... a lot more than that when the cameras for the big screens pan over them. During 'Whole Lotta Rosie,' the inflatable Rosie still makes an appearance to loom over the back of the stage. The bunch of newer songs sprinkled in still don't really excite the crowd that much. We all know what to expect, but it's not about the surprises or the shock value anymore.
The night is a celebration of longevity, of survival: of fathers and grandfathers, mothers and grandmothers, realising for a few hours that growing up doesn't mean having to fade away; realising that in a world in a constant state of flux, there is one small part of their youth that still remains; of children and Gen Y-ers having a chance to see history in the flesh, to hear in person songs that are older than them or maybe even older than their parents. I honestly couldn't tell you what the guitar tone was like or whether the drums boomed too loudly or not loudly enough in the cavernous stadium -- this 25-year-old was too busy smiling from ear-to-ear.
The five-piece capped off an admittedly sedate stage show with a bang. A platform into the crowd -- hitherto covered in plastic against the sporadic rain -- was unveiled and Angus climbed aboard as it raised 10 feet in the air and confetti sprayed everywhere from below his feet. A 10-minute wailing, screeching guitar solo ended the set proper, before the schoolboy then re-emerged through smoke and fire from a trapdoor below the stage floor, flames heralding the opening bars of encore 'Highway To Hell.' An earth-shaking 'For Those About To Rock,' accompanied by cannons flanking the stage and a New Year's Eve worth of fireworks atop the stage, finally rounded out the show.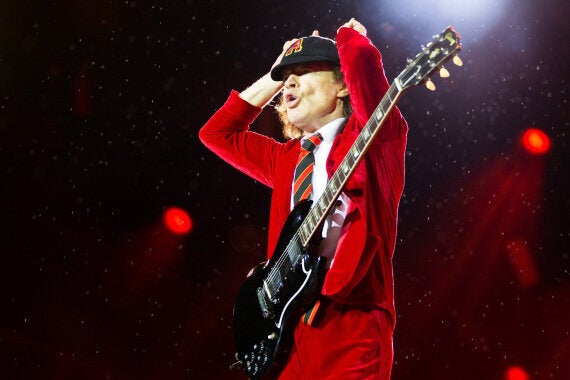 You can have your Foo Fighters and Pearl Jam, your Rolling Stones and U2; AC/DC is still the greatest rock'n'roll show on Earth. There's not a slow song for the band to take a breather, no solo acoustic set mid-show to give the guys a chance for a drink and lie down. It's two hours of balls-out, throat-shredding, duck-stepping, guitar-screaming rock that no other group even attempts to manage today -- let alone at a combined age of 320 years old.
The pauses between songs might be getting longer, but don't write these guys off as dinosaurs just yet. Great white sharks and crocodiles are dinosaurs too but they're still doing well for themselves, easily gobbling up things far younger than them.