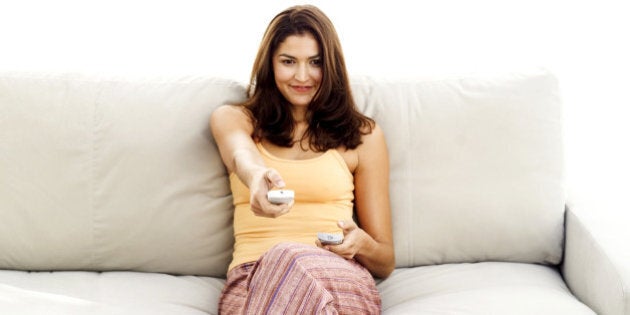 Apple recently launched their new Apple TV, and they don't want you to make any mistake of assuming it's just a slightly improved version of the original -- we're talking a whole nother level.
Everyone's best friend in their pocket, Siri is now in your remote, too -- and is easily the coolest new feature. Using voice to interact with your TV screen might be the height of laziness, but it sure makes things easier and faster.
The Siri Remote lets you do what's natural -- just say what you want to watch -- taking you right where you want to go without having to click through multiple menus to get there. Ask Siri to show you sports scores, pull up the weather, access your settings or other apps, and even check your stocks.
Telling Siri to turn on 'Enhanced Speech' will boost dialogue and soften music and sound effects, so you don't wake up the whole house when you're watching a late-night action movie or sports match.
Ask her "What did they say?" and Siri will briefly rewind 15 seconds and turns on subtitles for that time -- genius if you're watching in a loud group, or the actors have heavy accents.
A plethora of apps are now available on the telly, meaning you can basically treat the screen like your phone or iPad. Zova and Crossy Road are two Australian developed apps that are ideal for TV use.
Crossy Road is casual gaming at its best, and the numbers prove it -- The endless hopper game was released in 2014 and has had over 100,000,000 downloads and won an Apple Design Award in 2015. Making an animal cross the road on the big screen is somehow so much more satisfying.
Zova is a workout app featuring over 400 workouts designed by expert trainers, essentially bringing the gym to you.
For the first time you can also get Airbnb app on Apple TV, meaning planning a holiday is easier than crowding around a laptop looking at potential accommodation.
Double-tap the Home button on the remote and you'll see the apps you've used most recently, so you can seamlessly switch between, say, Netflix and your music, without having to go all the way back to the Home screen.
Accessing Apple TV is easy from any account, making it ideal for share houses. Simply log out with one touch when you're done so others can't access your music, download of photos. And speaking of photos -- having a slide night has never been easier.