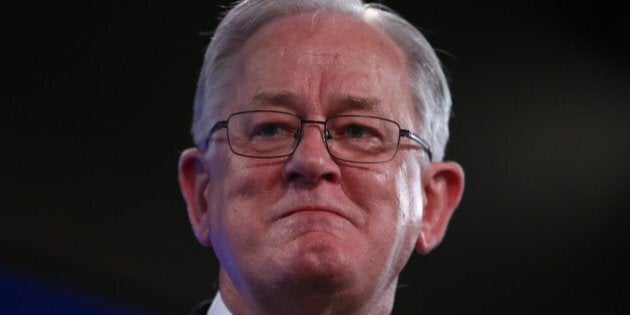 CANBERRA – Trade Minister Andrew Robb has defended the 12 nation Trans-Pacific Partnership agreement as a "trade pact, not a climate pact" in the face of renewed global concern about the landmark agreement.
Robb said Friday the text of the comprehensive agreement is out in "record time" and insists Australia will sign it.
The TPP represents about 40 percent of GDP and is designed to limit 98 percent of tariffs between the 12 nations including the United States, Japan and Chile, but analysts and activists say they see evidence of "green-washing" in the Environment Chapter.
"The agreement has poor coverage of environmental issues, and weak enforcement mechanisms," said intellectual property expert, Dr Matthew Rimmer.
"There is only limited coverage of biodiversity, conservation, marine capture fisheries, and trade in environmental services.
He's concerned that climate change is not mentioned at all in the heretofore secret document.
"'Climate Change' is like Voldemort from the Harry Potter series -- an evil, which must not be named. Instead, there is some weak language on the transition to a low emissions economy," the QUT professor said.
The Trade Minister stands by the agreement, "This is not a climate change policy, "he told ABC radio.
"It is not an agreement to do with climate change. It is a trade agreement."
The Trade Minister questions whether critics have read the entire document.
"I am a bit disappointed that 6000 pages hit last night at six o'clock, or whatever, and literally within 20 minutes people, predictable people, ringing media outlets around the country giving so-called expert advice with no opportunity to study the document," he said.
"We have been successful in leading the charge in getting significant carve outs which preclude public policy in environmental areas from being subject to litigation."
Dr Rimmer regards the Competition Chapter as having weak recognition of competition policy and consumer rights and he has concerns about the Intellectual Property Chapter, relating to the disclosure of trade secrets, computer crimes, and espionage.
"Such provisions could have a significant impact upon journalists, whistle-blowers, and civil society," he said.
The controversial ability for multi-national companies to use the TPP provisions to sue countries, like Australia, through the investor-state dispute settlement (ISDS) clause remains.
Australia secured an amendment in the General Exceptions Chapter to stop tobacco companies from suing over issues, like plain packaging laws, but Dr Rimmer insists it may still be possible.
"This is not a complete carve-out for tobacco control measures," he said.
"The agreement does not necessarily provide protection for tobacco control measures from attack under other regimes."
Robb believes the agreement, also with Vietnam, Brunei, Canada, Malaysia, Mexico, New Zealand, Peru and Singapore, is a transformational agreement from which all Australians will benefit.
"This has been negotiated over many, many years. We were aware from day one the major areas of sensitivity," he said.
"I am very confident we have addressed those."
The TPP still has to be ratified by all 12 nations, including the U.S. which has a presidential election coming up.
The full text will be tabled in Parliament for 20 sitting days, with the joint standing committee on treaties set to conduct an inquiry into the trade pact.
It is expected the agreement will be ratified by all participant nations by the middle of 2016.
The Federal Opposition has vowed to examine the document "very carefully."