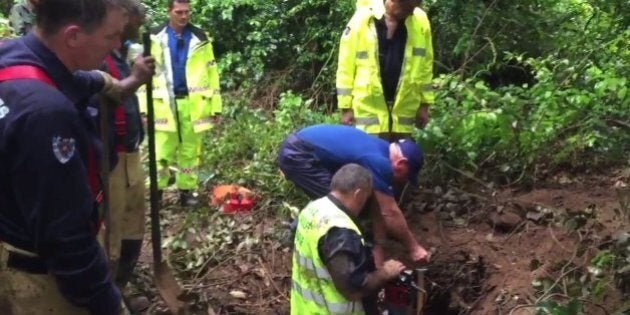 Rescuers have dug deep to save Brooklyn, a dog who became stuck after he chased a wombat into its hole at Nowra in southern New South Wales.
On Friday, the official rescue attempt for Brooklyn was called off but the community of Nowra reportedly banded together to continue the dig, working into the night to save the dog.
Late on Friday, the 42-kilogram American Bulldog was recovered.
The high-tech three day search involved the use of seismic sensors, cameras, and listening devices, but in the end it was people power that saved the day for Brooklyn.
The dog is the companion of a homeless man who reportedly lives in a tent at the Nowra showground.
Separate rescue attempts were staged early Wednesday morning, through the day on Wednesday and again on Thursday and Friday. NSW Ambulance, State Emergency Service, police, council workers and local animal rescue groups were all involved in the effort.