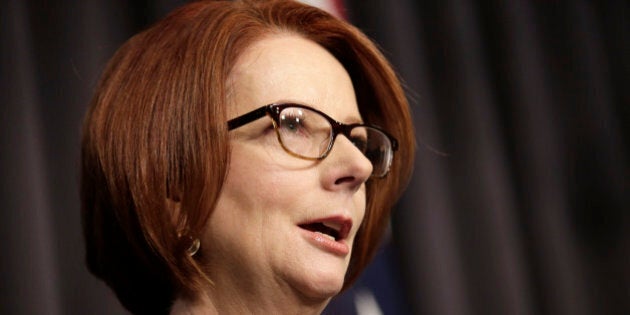 SYDNEY -- Former Prime Minister Julia Gillard has defended her government's legacy on asylum seekers, saying a "hardline" approach was needed to deter people from making the treacherous journey to Australia by boat.
Ms Gillard appeared on Al Jazeeara's UpFront program early Saturday morning as chair of Global Partnership for Education - a global education program that aims to get the world's poorest children into school.
In what was a tense interview at times, Ms Gillard addressed questions about the decisions her government made on asylum seekers while she was Prime Minister from 2010 to 2013, before she was ousted by Kevin Rudd.
In 2012, Gillard's government re-activated Nauru and Manus Island in Papua New Guinea amid increasing number of asylum seeker boat arrivals.
"I stand by the decisions I made," Gillard told UpFront's host Mehdi Hasan.
"The hard-line approach, in my view, does have a humanitarian underpinning which is we do not want people taking that journey and running those risks.
"The government I led was trying to do everything it could to deter people from getting on boats."
Under Tony Abbott's coalition government, hardline measures on asylum seekers were adopted based on refusing Australian resettlement for any boat arrivals. Labor now backs that approach.
Gillard said her message to prospective asylum seekers as Prime Minister had been clear.
"Our message to people who were desperate and fleeing hard circumstances was we are going to take refugees, but don't try and make the journey by boat. You may not survive, your children may not survive," she said.
"You don't quite know what it's like as Prime Minister to get the telephone call from your defence forces that tell you that they suspect that an asylum seeker boat has gone down and they are engaging in desperate measures to try and rescue people from the water.
"Whatever they do, people die."
Gillard said her government took "a set of decisions in a very difficult time when we were seeing increasing numbers and we were worried about deaths".
"We had a policy that I wanted to pursue which was a cooperative arrangement with Malaysia. I was blocked by the parliament from doing that," she added.