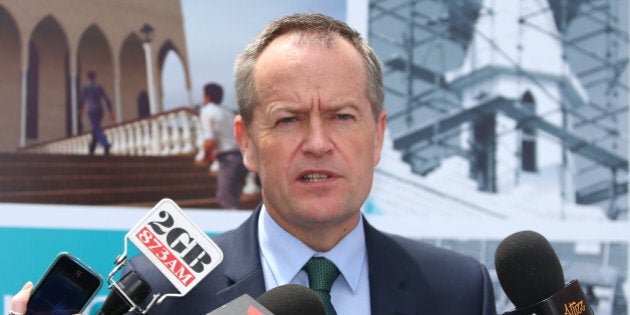 SYDNEY -- Federal opposition leader Bill Shorten has hit out at the royal commission investigating trade union corruption after he was effectively cleared of any wrongdoing while a union official.
Speaking on Sky News Australia on Saturday afternoon, Shorten said the Royal Commission was "designed (by Tony Abbott) to smear his political opponents" and that he was "pleased at this decision".
"As I have said for the last 18 months ... this royal commission -- Tony Abott's Royal Commission -- was, in large part, designed to smear his political opponents."
Shorten also questioned the timing of the release of the findings.
While he had centre stage, Shorten also took the opportunity to hit out at the Federal Government's proposal to raise GST to 15 percent, calling it a "lazy tax".
Stoljar said there was "no submission" Shorten was involved in criminal or unlawful conduct at the AWU from 1998 and 2000.
Earlier on Saturday, a spokesman for Shorten described the royal commission as politically motivated.
"This was a politically-motivated royal commission, set up by the Liberal Party to throw mud and smear its political opponents," the spokesman said in a statement.
"As Mr Shorten has always said, he has always acted in the best interests of workers.
"His actions have seen better pay, better conditions and safer workplaces for tens of thousands of Australians.
"He is proud of his record standing up for workers, the Liberals will always stand up for big business."
The spokesman said Labor had "absolutely zero tolerance for corruption or criminal activity in the workplace whether it involves an employer, employee or union".
While Mr Shorten was cleared, commission lawyers suggested his union successor Cesar Melhem may have solicited corrupt commissions and been involved in false accounting.
University of Western Sydney's James Arvanitakis said Shorten's reputation had probably taken a hit, despite the Labor leader being cleared by the commission.
"It looks like he has been cleared of all criminal activity. His successor Cesar Melhem seems to have a case to answer for doing something dodgy about inappropriate invoicing," he told ABC television.
"Bill Shorten was a scalp. He was the big scalp that everybody wanted. Has he been damaged? I think he has. I think he's been wounded."
Arvanitakis believed the experience would "haunt" Shorten for a while.
"I don't think he can walk away from this. He did cop a number of pretty harsh days on the witness box or the box," Arvanitakis said.
Shorten is expected address media in Perth later on Saturday.
Former NSW opposition leader, Kerry Chikarovski, said it was odd the statement from the commission was released late Friday.
"We used to call it 'putting out the garbage'," she told ABC television.
"It was odd to be putting them out that late ... clearly they didn't want it on the front page of the Sydney Morning Herald this morning."
On Saturday afternoon, the royal commission responded to criticism over the timing of the submissions' release, saying no disrespect was intended.