Paula Bronstein via Getty Images
Few areas of Australia's public policy are as contentious mandatory and offshore detention schemes, which have come under a negative spotlight once again following the death of asylum seeker Fazel Chegeni and subsequent riot on the Australian Island territory of Christmas Island.
Australians awoke this week to news members of the UN Human Rights Forum on Monday gave the scheme a schelacking, while Immigration minister Peter Dutton blamed a "core group of criminals" for the riots as extra police were flown in to help quell the unrest.
When is a riot not a riot? When it's in an immigration detention centre on Christmas Island: https://t.co/bp68fXKPyG [$]

— Crikey.com.au (@crikey_news) November 10, 2015
UPDATE: Immigration department is still attempting to restore order on Christmas Island after unrest among detainees https://t.co/A7oWKSnf63

— Jen Ryall (@jennijenni) November 10, 2015
Chegeni, who was aged in his 30s, was reportedly found outside the centre and authorities have said his death is not suspicious. A report will be prepared for the coroner.
But advocates hold conditions in the immigration centre and Australia's offshore detention scheme responsible. Since 2001 there have been 38 deaths in detention, both on and offshore.
Australia's offshore Detention Program
Australia has had different incarnations of its offshore detention since the "Pacific Solution" was first introduced by the Howard government in 2001 following the Tampa Affair.
Labor dropped much of the Coalition's policy when it took office in 2007, but by 2012 the government of Julia Gillard gravitated back to offshore detention after its "Malaysia solution" was knocked over by the high court in 2011 and the number of boat arrivals started to increase.
In 2013 the Crime Commission said almost 1000 asylum seekers had died trying to reach Australia by boat between 2001 and 2013, with the majority dying after October 2009.
Under the Gillard policy, asylum seekers who arrived by boat could be sent to PNG's Manus Island, Nauru or the Australian territory of Christmas Island for processing.
In July 2013 Kevin Rudd was Prime Minister again and he doubled down on the policy, announcing while in Papua New Guinea that anyone who arrived by boat would have "no chance" of making it to Australia.
The Coalition ramped this policy up when it won office in September 2013 with the introduction of Operation Sovereign Borders, a military style program to stop boat arrivals.
This policy brought with it phrases such as"on water matters" and "operational matters," under which the government has refused to answer questions on whether it paid people smugglers to turn around.
Each government has claimed a humanitarian ethos underpins the scheme, with the intention being to break the people smuggler trade and prevent deaths at sea.
Detainees on Manus and Nauru have been told they will never set foot in Australia, and the price of funding the two pacific island centres is costing the taxpayer $1 billion in the 2014/2015 financial year.
Manus Island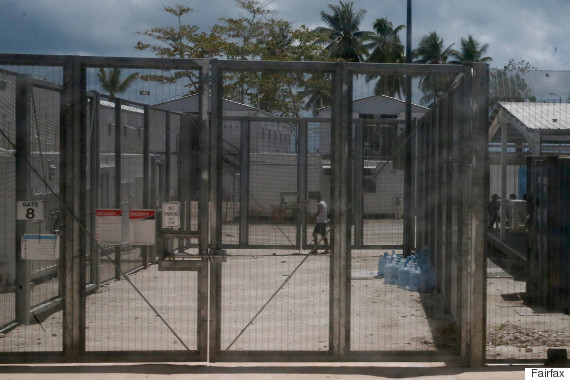 The Manus Regional Processing Centre on Los Negros Island Manus Province Papua New Guinea on Friday 11 September 2015.
As of June 30 there were 945 adult male asylum seekers in the centre on Manus Island.
In February 2014 29-year-old Asylum Seeker Reza Barati was beaten to death during a clash between asylum seekers and locals at the centre. Two men have been charged and the matter is before PNG's Courts.
In September 2014 24-year-old Hamid Kehazaei died in a Brisbane hospital of septecema after cutting his foot on Manus Island.
PNG is yet to fully implement its refugee resettlement plan more than two years after the centre was opened. Those so far determined to be refuges are housed in a transit centre on Manus, but are unable to leave the islands or work.
PNG Prime Minister Peter O'Neill told Opposition Leader Bill Shorten the resettlement plan could be ready within the year.
There are currently two Supreme Court challenges to Manus Island underway in PNG – one brought by former deputy prime-minister Belden Namah, and another has recently been joined by asylum seekers.
Nauru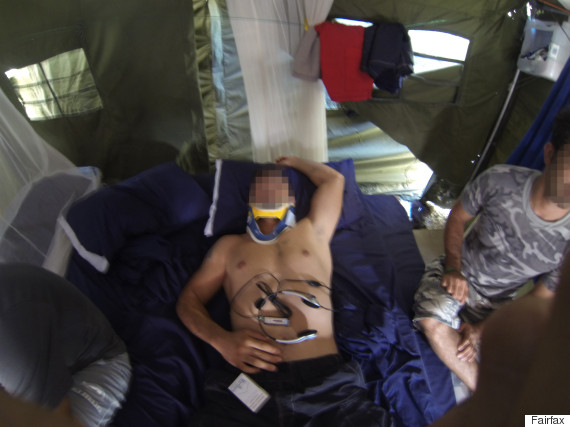 An asylum seeker in a neck brace after a suicide attempt on Nauru in 2014
The detention center was built in 2001 and reopened in 2012 after being closed for five years.
As of June 30 there were 655 asylum seekers (including 88 children) in the 'regional processing centre' on Nauru
The government of Nauru and conditions at the centre have come under increasing criticism, following a series of rape allegations, accusations of police negligence and authorities cracking down on opposition politicians and free speech.
Last month, and ahead of a high court challenge to offshore detention in Australia, the government of Nauru announced it would speed up processing of asylum seeker claims and open its detention centre to allow detainees 24 hour freedom of movement.
In Nauru if an asylum seeker's claim for refugee status is successful they will be granted a visa and settled outside the detention centre in the community. There they can choose between remaining in Nauru for five years, or resettling in Cambodia.
The Australian government has firmly stated that no refugee on Nauru will ever have the opportunity to settle in Australia.
Christmas Island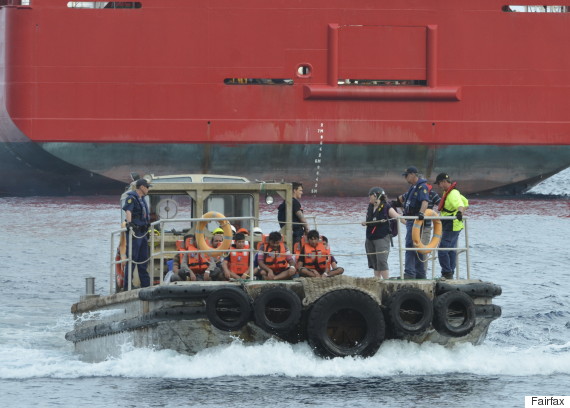 Arrivals being off-loaded from the Oceanic Protector after it was involved in a stand off with the Indonesian government in 2013. Eventually the boat was brought to Christmas Island.
The government says there are currently 203 asylum seekers at the immigration facility on Christmas Island, with no women or children held.
In 2011, Australian Federal Police fired bean bag bullets at rioters who had set fire to buildings at the centre.
In Mid 2015 the government began to move people who had their visas revoked on character grounds and asylum seekers who have "behavioural issues" from their onshore detention centres Christmas Island, including 22 bikies.
On Sunday riots erupted after Chegeni's body was found outside the centre, with witnesses saying a group of about 30 began to fight with security after news of the Iranian Asylum seeker's death. The incident reportedly caused staff to flee.
New Zealand's Justice Minister Amy Adams has said she is seeking reassurances from Australia that they are honouring a promise to help New Zealand detainees to return home quickly.