Fairfax/Andrew Meares
CANBERRA -- Prime Minister Malcolm Turnbull may have brought a fresh approach to the top job, but a fresh change to parliamentary question time hasn't won over many fans.
While Labor was pressing on possible changes the GST, and getting a guarantee from Turnbull that there would be no increase in the 10 percent rate without compensation schemes for low income households, a trial in democracy was being held.
Labor appeared ready for anything.
Struggling to find the right Clueless reference for this @ellinghausen#qt pic of @terrimbutler and @Clare_ONeil_MP. pic.twitter.com/TzV6uxfkGo

— Stephanie Peatling (@srpeatling) November 9, 2015
Parliamentary question time has long and widely viewed as being in need of a shake-up, but what we have today is a British style "bread and butter" question and answer session on issues affecting backbenchers' constituents.
It takes up the second half of question time and came from an idea proposed in 2013 by the Government Leader in the House, Christopher Pyne.
First day of Constituentcy Question Time! @auspol

— Christopher Pyne (@cpyne) November 8, 2015
The idea certainly had promise, those soft pre-planned "Dorothy Dixer" questions from Government backbenchers to Ministers lack authenticity, spontaneity and are generally "questionable".
The backbenchers jostled to be first.
Lucy Wicks MP for Robertson and David Coleman MP for Banks both rise to ask a constituency question during qt pic.twitter.com/BkuAjaTDvl

— andrew meares (@mearesy) November 9, 2015
Labor MPs were bracing themselves.
David Coleman beats fellow Libs Lucy Wicks and Rick Wilson to ask a question. Labor MPs erupt in "ohhhh!" #qt

— Rashida Yosufzai (@Rashidajourno) November 9, 2015
And the question? As promised it was a solid constituency question on a major road duplication and upgrade in David Coleman's Sydney seat of Banks. Specifically how will Banks residents benefit?
The Minister, Paul Fletcher quickly gave up the game.
Paul Fletcher admits he has prepared answers to these 'questions without notice'.

— David Speers (@David_Speers) November 9, 2015
While the Social Services Minister Christian Porter was concentrating hard on the constituency question aimed at him.
Has Porter even looked up while he has read out this answer? #qt

— Greg Jericho (@GrogsGamut) November 9, 2015
Aaaaaand the verdict on constituency question time was soon in.
November 9, 2015
A constituency question in #QT that sounds like it came from D. Dixer...

— Shane Wright (@swrightwestoz) November 9, 2015
Although some views were should be questioned.
Loving these new unscripted constituent questions - it truly is the most exciting time to be in #qt

— Andrew Giles MP (@andrewjgiles) November 9, 2015
The President of the Canberra Press Gallery, Sky News Australia's David Speers thought it was "not a good start," while host Peter Van Onselen urged the government to "junk this crap".
The picture says it all: What @vanOnselenP thought of the new 'constituent questions' https://t.co/Zp8ZR8Eim7pic.twitter.com/y4eyYlEj8P

— Matthew Jones (@mjonesy_87) November 9, 2015
Pyne thought the day was a smashing success.
Amazed Labor knocking backbenchers writing & asking own questions & then getting detailed answers from Ministers for electorate #oldpolitics

— Christopher Pyne (@cpyne) November 9, 2015
There are only 11 parliamentary sitting days left in 2016.
And a few years to go until Wyatt Roy is Prime Minister.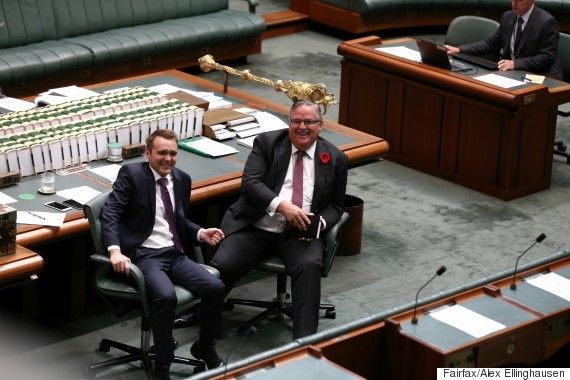 Until then, the seat is warm..