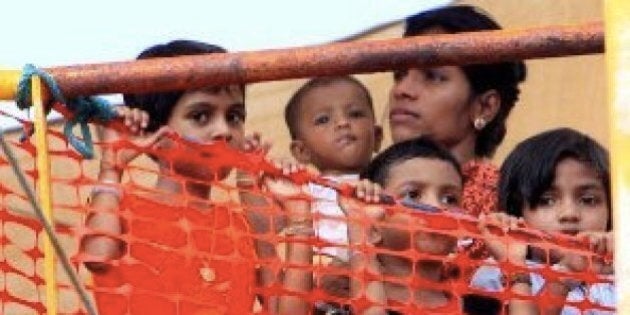 CANBERRA -- North Korea, Indonesia, Egypt, Pakistan, Guatemala and Kenya were among the more than 100 nations that questioned Australia's asylum seeker policies at the UN's leading human rights body in Geneva.
As part of a 47-member-state review, held every four years, Australia faced allegations from the Human Rights Council that it has detained children and sent back refugees, in breach of international law.
More than 100 delegate nations questioned Australia's policies over nearly four hours, including Sweden which pointed out Australia was the only nation in the world to use both offshore processing and mandatory detention.
It comes amid Europe's refugee crisis and as extra police arrive on Australia's Christmas Island to restore order to the immigration detention centre in the wake of the death of a detainee.
Australia is also seeking a seat on the Human Rights Council.
Among the other nations to question the Government's border protection, a representative from Germany urged Australia to review the current asylum seeker arrangements with Nauru and Papua New Guinea.
Ireland recommended a reversal of the recent decision restricting U.N. officials from visiting the Nauru detention centre and Norway urged an improvement and speeding up of immigration processing on the offshore centres.
Germany, which is itself dealing with hundreds of thousands of Middle Eastern refugees, urged the immediate release of children, families and survivors of torture from detention.
Other countries to raise concern included Britain, the United States, France, Japan, Greece and Egypt.
However, Australia's representative told the council that the government's border protection policies have "saved many lives at sea" by deterring people smuggler operations.
"Australia's strong border protection measures have played a key role in enabling the government to maintain meaningful and significant humanitarian resettlement and assistance programs," John Reid of the Attorney-General's department said.
Australia also highlighted its plans to resettle 12,000 Syrian and Iraqi refugees over the next 18 months. The families are due to arrive before Christmas.
"On a per capita basis, Australia offers more resettlement places than any other country in the world," said Australia official Steve McGlynn.
Labor's immigration spokesman Richard Marles said the international criticism was no surprise.
"Offshore processing should be about processing. It should be about resolving the fate of these people," he told the ABC.
"It should not be a question of indefinite detention."
While in Government, Labor toughed Australia's policies, but reintroducing offshore processing in the centres on Nauru and Papua New Guinea.
"The fact that the government has kept people living in tents on Nauru, which was really a decision not to complete construction of the facility on Nauru, that is an absolute disgrace and worthy of criticism, "Marles said.