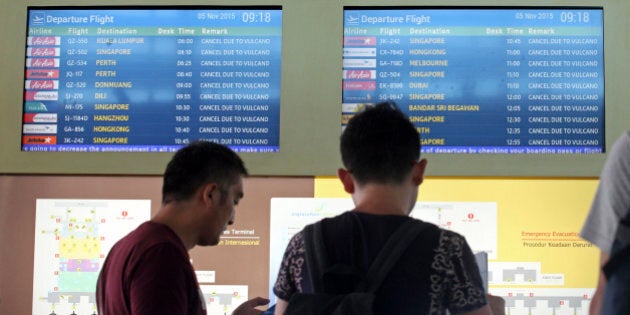 Jetstar and Virgin have updated their flight information for services from Bali to Australia and will continue to fly people home on Thursday, but Bali-bound flights are still cancelled.
Both Jetstar and Virgin issued advisories on Wednesday, announcing they would resume Australia-bound flights but that flights to Bali were still grounded.
"Flying conditions are forecast to remain favourable tomorrow, with satellite imagery from around Bali indicating we'll be able to fly daytime services. At this stage, we plan to operate up to 11 recovery flights from Bali to Australia tomorrow to bring another 2,200 customers home. We'll connect any customers flying to other airports in Australia on to domestic flights as needed," Jetstar said.
"While we're hopeful conditions will be safe for us to operate all services tomorrow, experience over the past week has shown the ash cloud position can change quickly. We will update customers if our flying plans change. Jetstar has contacted customers booked on recovery flights directly. All originally scheduled flights to and from Bali on Thursday have been cancelled."
Virgin issued a similar alert.
"Flying conditions in the vicinity of Denpasar Airport remain favourable today... Virgin Australia is planning to operate the remainder of today's scheduled flights from Bali to Australia, providing conditions do not deteriorate. Virgin Australia is prioritising those passengers who have urgent medical needs in Australia on these flights. All services departing Australia for Bali today remain cancelled," the Virgin advisory read.
Flights between Australia and Bali have been affected since November 3, after Mt Rinjani -- on the island of Lombok -- began erupting and sending clouds of smoke and ash into the sky.