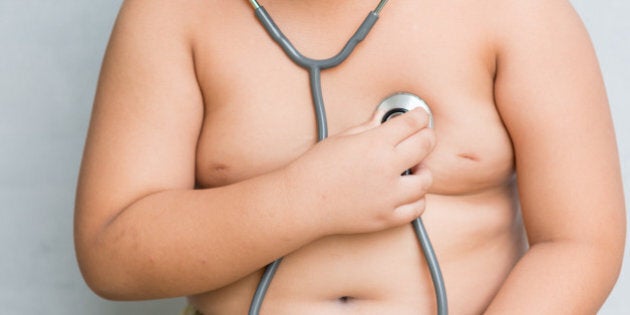 Research into childhood obesity has received a significant funding boost this week with the announcement of the National Health and Medical Research Council (NHMRC) Grants.
"At only five years old, 1 in 5 Australian children are overweight or obese, which is quite a startling figure. This may have implications for the rest of their life because early childhood is a period when physical inactivity and poor eating habits become established," Professor Louise Baur A.M, Department Head of The Children's Hospital at Westmead's Clinical School said.
The Australian Government awarded $2.4 million to fund a Centre for Research Excellence in the Early Prevention of Obesity in Childhood that will aim to reduce the prevalence of obesity and obesity-related behaviours in children aged 0-5 years.
With the new funding Baur will lead a team of ten Chief Investigators and ten Associate Investigators from around the world to bridge the current gaps in research, practice and policy and help improve the health outcomes for children as they grow into adulthood.
Professor John Funder of Obesity Australia states "over this period [the four years before a child's fourth birthday] the child is essentially totally dependent on the parents for nourishment and to a large extent activity -- it is also the period in which the epigenetic mechanisms for hunger/satiety set points continue to be established, as are food preferences (sweet/salty/fat) when foods other than milk are introduced. At this stage, there can be no question as to whether overweight/obesity is a child's own fault."
"The causes of early life obesity are what the baby was exposed to in the uterus (and possibly what the parents were exposed to pre-conception), plus how the child is fed after 4-6 months of age. The most common solid food onto which babies in the USA are weaned is French fries, a trifecta in terms of ticking all the boxes – carbohydrate, fat and salt."
"The best solids to introduce are vegetable mush, a modest amount of fruit mush and a source of protein -- meat mush, or if you are a vegetarian family, mush from tofu or legumes. Babies need lots of iron, and vitamins and minerals in addition. The only thing going for rice cereal is that it is iron-fortified; otherwise it has been characterised by an eminent nutritionist as 'an infant oral glucose tolerance test' i.e. all carbohydrate, and rapidly absorbed," Funder said on the Obesity Australia website.
Of the project's aim, Professor Baur said "[it] is to target children in these early years before unhealthy habits are set in place and develop new methods of intervention that will lead to physical change (BMI), behavioural change and in time, policy change."
The project will pave the way both nationally and internationally in discovering new knowledge and evidence about effective implementation, monitoring and evaluation of early childhood obesity prevention programs – an area for which there has been limited effective research previously.
"Our Centre for Research Excellence will make a substantial contribution to ending the burden of childhood obesity in Australia and beyond, as well as making inroads internationally, by address these outstanding questions and gaps in knowledge," Professor Baur said.
The Centre for Research Excellence will be located at the University of Sydney.