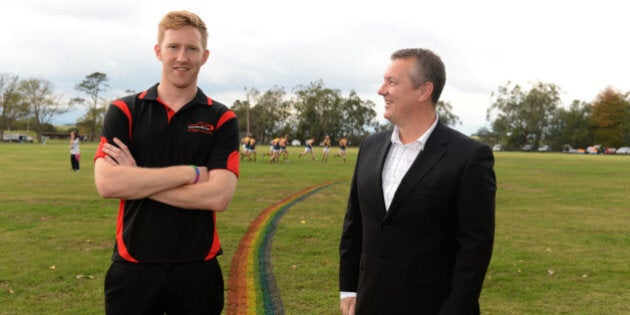 The first openly gay Australian Rules footballer to come out has called for the code to do make than "symbolic gestures" to support the LGBTI community and its players.
Jason Ball, a defender for Yarra Glen in the Yarra Valley Mountain District Football League, became the first openly gay Aussie Rules player at any level in 2012 when he publicly announced his sexuality. Ball has since become something of a standard-bearer for the issue in sports, saying football players would still feel apprehension and fear at openly admitting their sexuality -- just as he did -- because he says the AFL has not yet made sufficient in-roads to making gay players feel comfortable and secure in the game.
"When there's silence [on LGBTI issues], people in the LGBTI community expect the worse about how people will react," Ball told The Huffington Post Australia.
"When it comes to elite players, for them their sport is their career. They wouldn't want to do something that risks jeopardising that. There are still a lot of unknowns in that space in their world, like whether their team mates or club administration or the AFL would be supportive of them."
"When I came out, I felt silly for thinking I had to hide it for so long - but I also am not surprised others feel apprehensive about it. It is something at the top level that hasn't been done before. Without hearing messages of support from the people around you or people who make decisions in your club, you can fear the worst."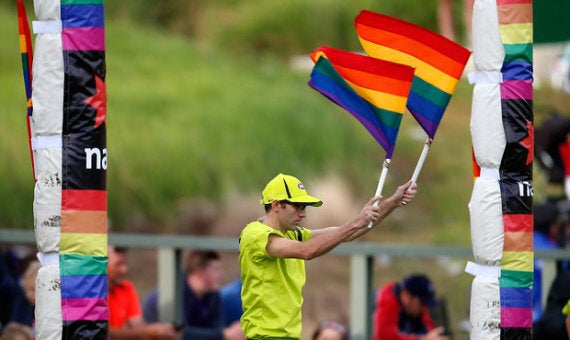 A goal umpire waves rainbow flags during NAB Challenge match earlier this year
The Out On The Fields study around homophobia in sport, released in May, found 80 percent of Australian respondents thought LGBTI people were not accepted in the sporting community. Nine in 10 young people said they felt they could not be honest about their sexuality, citing feared discrimination from coaches and other officials, while 80 percent of Australian respondents said they had experienced or witnessed homophobia in sport.
Ball said, based on his own experiences, he did not think coming out as gay would impact an elite player's career. However, he believes a deficiency in material support for the gay community from the code is making gay AFL players -- of which he says there are a number -- fearful of their professional future if they come out.
"The potential for being sidelined in your club, jeopardising their career, isn't a risk they would take if they could avoid it. But they avoid it at the expense of their own mental health and well being," he said.
"But there's a difference between the fear and reality. For me, the fears I had weren't realised. I think players would find, if they did find the courage to be themselves and be open, they would be surprised how accepting people are, if they gave them a chance -- people in their club and the fans."
"I learnt a lot of the homophobic language I was witnessing, whether over the fence from my coach or team mates, was from ignorance rather than hatred toward the gay community. Once it became real for them, that they had a gay team mate or player they supported, it didn't take too much effort for them to see that language was having a negative impact on me," he said.
"The reaction of my team mates on that day meant the most to me out of anything."
Dr Stephen Carbone, beyondblue's policy research and evaluation leader, cited another factor in players' hesitation to come out -- unwanted media attention.
"We only know of one or two individuals across whole codes [who have come out]. One is assuming there's something causing concern among those playing the sport, that they don't necessarily want to talk about it in relation to their sport. One can only speculate, but at the elite level, it is such a fishbowl," he told HuffPost Australia.
"You're far more in the public eye and have more attention on you . Maybe they don't want to go down that path, where suddenly the spotlight comes on your private life rather than sporting life."
Carbone and Ball both said more needs to be done to ensure gay players feel comfortable, welcome and safe to be open about their sexuality -- not just in the AFL, but every sporting code. Ball's Yarra Glen team have since instituted an annual Pride Cup in their local competition; the AFL this year instituted a pre-season 'Pride Match' between Sydney and St Kilda where the "50-metre arc, goal post pads and goal umpire flags [were] decorated in rainbow colours"; and the Saints have requested such a match during the 2016 regular season which "celebrates sexual diversity and equality in a marquee timeslot,". However, Ball said there needs to be more than just one-off special events.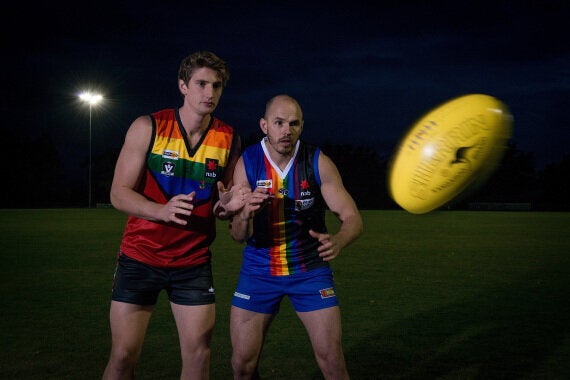 Yarra Glen player Will Gordon and Warburton player Brendan Murphy in rainbow jerseys before the Pride Cup in May
"When it comes to the AFL, they're not there yet. There's still more to be done. It is small steps forward, but it's telling there are no openly gay elite players in the AFL. That does fall on the clubs and the AFL to do more in this space," he said.
"The Pride Game will be a great opportunity for them to do something meaningful to promote diversity in the game, but it needs more than just painting the 50m line in a rainbow or having an outside broadcast from Joy FM. Those are great symbolic gestures, but what is needed is education, which comes at a price tag."
Both Ball and Carbone called for wholesale change from grassroots up, to educate players and teach tolerance and respect.
"The AFL needs to be prepared to invest in education, so the players and clubs and the AFL administration as well as the general public understand what are the challenges the LGBTI community face in the sport, and know how to change behaviours and challenge homophobia," Ball said.
"There definitely could be more done. It is great what is happening, its definitely a start. The responsibility should be at the organisational level, the club or code administration; it shouldn't necessarily have to be up to the individual to be the champion or spokesperson," he said.
"If a player does [become a spokesperson], like Jason, that's fantastic. But it should be up to us all. The LGBTI community is a valued and integral and normal part of our community. Just as we have sporting support for indigenous and multicultural issues, this should be part of embracing diversity and valuing people for who they are. Why not value those differences?"