Foreign Minister Julie Bishop says Australia stands in solidarity with France in the wake of a series of "horrific and devastating" attacks in Paris that have killed at least 100 people.
Addressing media in Perth, Bishop said no Australians were believed to be among those killed or injured, and urged those Australians in Paris not to leave their accommodation due to the risk of further attacks.
She said there were currently 2500 Australians registered with DFAT as being in Paris, noting that the actual number was probably much higher.
"The Australian Government extends its deepest condolences to the families and loved ones of those killed in these horrific attacks that have occurred in Paris overnight," Bishop told reporters.
"We understand that these six separate terrorist attacks commenced at around 9:30pm Friday, 13 November in the heart of Paris.
"The death toll is at least 100 and rising. The numbers are still very fluid and we are in contact with the French authorities. This is indeed a Black Friday for France and for the world."
Turnbull and opposition leader Bill Shorten were among Australian politicians who took to Twitter following the tragedy.
Australians' thoughts, prayers & resolute solidarity with people of France as they respond to brutal terrorist attacks in Paris tonight.

— Malcolm Turnbull (@TurnbullMalcolm) November 14, 2015
The Huffington Post France reports that at least one gunman opened fire on the terrace of the Petit Cambodge restaurant in the 10th district.
In another incident, around 100 hostages have reportedly been killed at the Bataclan concert hall. Police stormed the hall where hostages were being held. The attack took place during a concert by the U.S. rock group Eagles of Death Metal.
The attacks took place at seven locations in Paris including a shopping centre, the Louvre and a bar.
Explosions also took place near Paris' Stade de France during a soccer match between France and Germany. French President Francois Hollande was evacuated from the match, France 24 reported. Hollande and Interior Minister Bernard Cazeneuve have safely returned to the Interior Ministry, according to France 24.
Bishop said Australian authorities were monitoring the situation.
"ASIO is currently monitoring the situation to assess whether there needs to be any changes to Australia's security assessment," she said.
"At this stage we do not intend to change the threat level. The implications for Australia at this point are in relation to consular and travel matters for any Australians in France at this time."
She said she had been in contact with Prime Minister Malcolm Turnbull, who's currently in Germany, on the matter.
Bishop said one Australian in Paris had been assisted by consular officials, and that a 24-hour consular emergency number - 1300555135 - had been set up.
"There was one Australian citizen who contacted our emergency consular line, he was in the vicinity of the attacks. We urgently made arrangements to locate him and I can confirm that he is safe," she said.
Australian Greens Leader Richard Di Natale said his deepest sympathies were with the people of Paris.
"On behalf of the Australian Greens, our thoughts are with the people of Paris who have lost loved ones in this horrendous and senseless violence," Di Natale said.
"While it appears that these attacks are coordinated, we should not rush to judgement until the facts are clear.
"Australia should do whatever it can to assist France in this time of tragedy and heartbreak."
DFAT is warning Australians in Paris that more attacks could take place.
"French authorities have declared a state of emergency and local police have advised the public in the Ile de France area to avoid going outdoors in coming hours," DFAT's smartraveller website advises.
"Australians in Paris should minimise movement in public places, follow the media for latest information on security and follow the instructions of local authorities. Further violent incidents could occur."
Governor General Peter Cosgrove said he was "appalled at the loss of so many innocent lives in the French capital".
"Our two nations have a long history of standing together in times of crisis and we do so again today as we condemn, in the strongest possible terms, those who seek to interrupt our peaceful way of life," he said.
"We are greatly saddened by these senseless acts. Our thoughts and prayers are with all of those affected and the French nation."
U.S. President Barack Obama described the attack as an assault on French values.
"We stand prepared and ready to provide whatever assistance that the Government and the people of France need to respond," Obama said.
"France is our oldest ally. The French people have stood shoulder to shoulder with the US time and again. Now we want to be very clear that we stand together with them in the fight against terrorism and extremism.
"Paris itself represents the timeless values of human progress. Those who think that they can terrorise the people of France or the values that they stand for are wrong."
UK Prime Minister David Cameron said he was shocked by the events and that the UK would help in whatever way possible.
The Bataclan club is a few hundred yards away from the former offices of Charlie Hebdo. In January, gunmen forced their way into the offices, opened fire and fled, killing 10 journalists and two police officers on the way. Several others were injured.
Two brothers behind the attack, Cherif and Said Kouachi, were killed by police after taking hostages two days later. The Al Qaeda affiliate in Yemen claimed responsibility for the Charlie Hebdo attack. It wasn't immediately clear if Friday's shooting had any ties to terrorism.
Details are still emerging in what is a rapidly unfolding situation.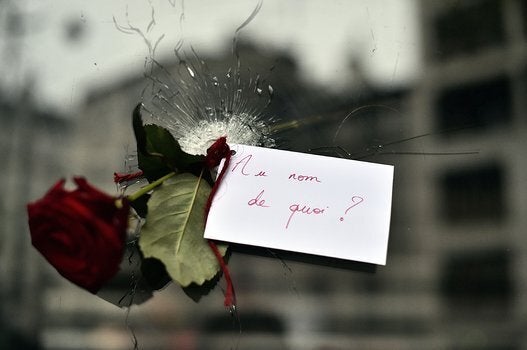 GRAPHIC WARNING: Paris shootings