Fairfax Media
"I went to tackle [Tony Abbott]. I ran, I missed and the rest is history."
That's the excuse Liberal MP Jamie Briggs has given for how he injured his knee on the night of Tony Abbott's ousting as Prime Minister, again fending off rumours he was the one who infamously broke the marble table in the Cabinet room.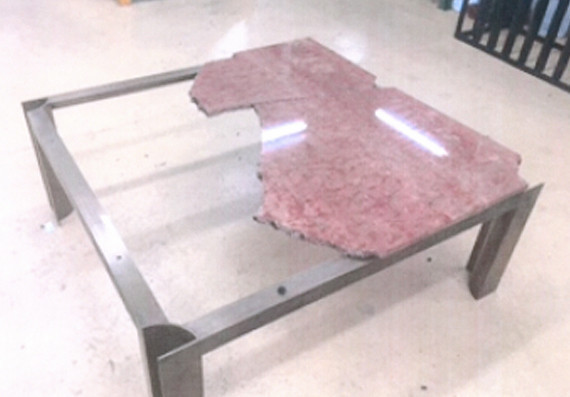 Whisperings have reverberated around the corridors of Parliament House since the night of September 14, with gossip saying Briggs was dancing on the tabletop -- as Elvis Presley's song 'Suspicious Minds' played over the stereo -- causing it to break. That Briggs was spotted in a wheelchair the next day did nothing to quell suspicion.
Briggs had earlier blamed the knee injury on a jogging accident. Speaking to Ben Fordham on 2GB radio on Friday afternoon, Briggs again denied the rumours about his involvement in any table-smashing, saying his knee injury was down to the simplest of excuses -- a failed attempt to tackle the former prime minister.
Of course.
"I would love to play with the story but I'd left by that point [the table was damaged]. I'd injured my knee in hijinks with the former prime minister," Briggs said.
"Everyone knows Tony Abbott is a very fit man, a very strong man and I'm not at the peak of my powers as far as fitness and strength is concerned and I lost."
Finally.. @BriggsJamie talks about the night he tried to tackle @TonyAbbottMHR and ended up in a wheelchair https://t.co/kpIJ69bS7G

— BenFordham (@BenFordham) November 13, 2015
When pressed, Briggs finally told the whole truth: "We were mucking around... I went to tackle him. I ran, I missed and the rest is history. I then limped back to my office and licked my wounds."
Abbott, the seasoned rugby veteran, may have put a savage sidestep on the former Assistant Minister for Infrastructure and Regional Development -- now Minister for Cities and the Built Environment -- causing him to injure his knee.
Despite the excuse, Briggs did not deny he had been dancing on the table, only denying that he had broken it.
The mystery remains; who did this?