UFC queen Ronda Rousey has been dethroned after Holly Holm knocked her out in the second round of their title fight in Melbourne on Sunday.
Rousey, a global phenomenon after revolutionising the sport of MMA with her 100-yard stare, brutal first-round KOs and celebrity catch-phrases, looked uncharacteristically uncomfortable as she suffered her first ever defeat.
Holm, a former boxer, seemed unintimidated by the Mike Tyson-style hero's welcome afforded Rousey as she entered the octagon -- and upstaged her decorated opponent with focus, speed and devastating hits that seemed to blindside the defending champion.
Rousey was knocked to the canvas when Holm whipped her in the side of the head with a lightning-quick left kick, then continued the job with her hands as Rousey lay prone.
The referee quickly intervened and the fight was called in Holm's favour, shocking everyone in Melbourne and around the globe.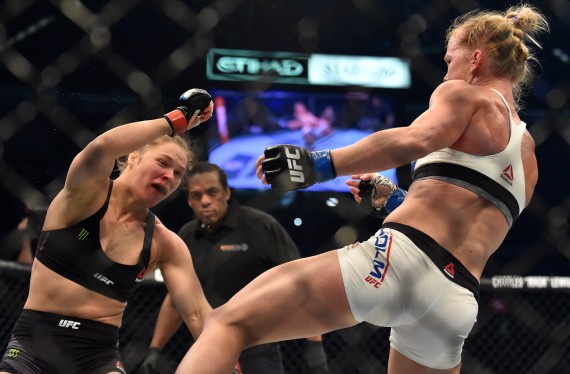 That'll do it: Holm whips Rousey with her left leg. (Picture: Getty)
Such is Rousey's impact on the sport that she's transcended UFC; her infamous jibes at Floyd Mayweather, "do-nothing b*****s", and women who criticise her physique have made her a bonafide celebrity.
The world is obsessed with Rousey right now. Previous to Sunday's upset, she'd never lost a fight and had earned a reputation as the most feared fighter in the world, man or woman, in either boxing, MMA or anything else.
This reporter had expected a healthy crowd to watch the fight at a popular pub in Sydney's east, but was shocked to find it packed so fully that it was impossible to move, let alone see the screen. It took a quick trip up the road to an alternative venue to even get a glimpse of the fight -- but there too was a crowd fuller than any normally seen during a football final.
I guess Ronda Rousey is kind of a big deal then. https://t.co/BvzllCAem5

— Chris Paine (@chrisreespaine) November 15, 2015
Holm was first to enter the arena and perhaps it was the lack of fanfare surrounding her that gave her an advantage. With a crowd desperate to see Rousey, the underdog simply jogged up to the octagon, stretched out and quickly prepared herself for battle. Meanwhile the lights dimmed and the sight of Rousey enraptured the crowd like it was The Beatles' 1964 world tour.
The pub crowd suddenly grew quiet and while Rousey didn't rip in from the opening bell, as is her custom, she appeared calm on her feet and ready to wait for her chance. But before long she lost control and became shellshocked by Holm; the challenger was ready for this. She was disciplined. She wasn't intimidated by the most intimidating fighter on the planet.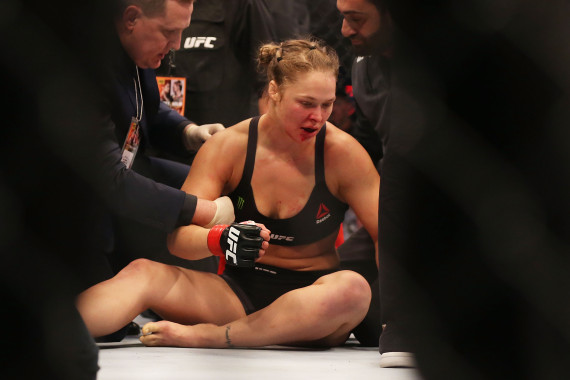 Champion down: It's over for Rousey. (Picture: Getty)
Rousey was bloodied and rattled by the end of the first round; typically she doesn't even need that long to knock her opponent into oblivion. She steeled herself and returned for the second but it was clear that Holm had her measure. And when she delivered the title-winning blow, Rousey sunk to the mat and Holm didn't let up. When she was pushed away by the referee she knew it was over.
She'd done the impossible. She'd beaten the unbeatable.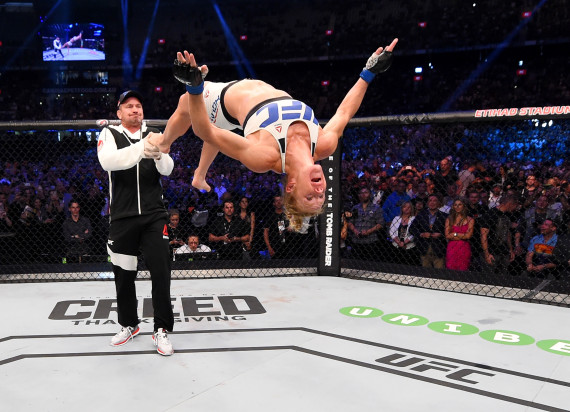 The new champion. (Picture: Getty)