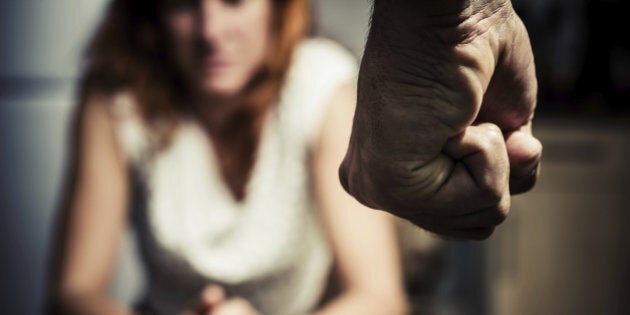 Dockworkers have joined the front line in the battle against domestic violence, with port operator DP World Australia being named as one of 14 organisations added to the list of White Ribbon Accredited Workplaces.
Port and supply chain operator DP World Australia CEO Paul Scurrah told the Huffington Post Australia he was proud of the organisation's commitment to, and plans to address, domestic violence.
"We know we can influence big issues through the way we behave, to set good examples for the community. There's also a personal element here; I'm the father of two daughters and if something doesn't change, statistics say they might be subject to domestic violence in their lives," he said.
"The stats say some people who work for us will probably be involved in domestic violence. If that's the case, we want to educate people on how they can do something about it and educate people that it's not acceptable in any form."
Scurrah said DP World has introduced readily-available domestic violence leave and flexible working arrangements, as well as intensive training for employees and managers on how to recognise and respond to domestic violence.
He said the waterside industry has had a "pretty one-dimensional reputation for some time" for its male-dominated landscape, and wanted to ensure that women felt comfortable and safe working in the trade.
"We've run a very aggressive cultural change program. There has been the idea you need to mix it with rough and tumble [in the ports industry], but that's a very outdated view. We wanted to make sure it is a changing workplace, so our culture program has come out with some very strict behavioural standards to live and work by," he said.
"It's very important we recognise some of our employees would either be involved in domestic violence somehow. We introduced a very strong policy and joint statement with Maritime Unions Australia, outlining workplace behaviour with a zero-tolerance to any sort of bullying, violence or harassment in the workplace."
"I think our policies are equal to or better than anything else in the marketplace."
White Ribbon's executive manager for schools, youth and communities, Jennifer Mullen, said the first stages of the accreditation program had received positive feedback from participating workplaces, with a further 130 working toward receiving accreditation.
"We're seeing the program creating increased knowledge in staff and particularly managers to address the issues. There is an enhanced capacity from workplaces to recognise the issue, and incredibly positive results coming through like increased awareness and increased propensity to act," she said.
The accreditation began with a pilot program intake of 23 organisations including the National Rugby League, the Royal Military College of Australia, the Royal Australian Navy, the Council of the City of Sydney, the University of Canberra, and Telstra.
The program also provides a structured framework to review policies, procedures and training to refine their programs or implement new ones if necessary, around anti-bullying, harassment, gender equality, women's empowerment and diversity, Mullen told The HuffPost.
Mullen said each workplace had responded to domestic violence in their own way with individual policies and changes, but that well-regarded and significant policies included flexible working arrangements or paid leave for those experiencing domestic violence.
"The workplace program provides a framework to look at leave and flexible work, leadership and role modelling within the organisation," she said.
"It's about employers ensuring there is that support available, policies in place to support employees experiencing violence that are expressly articulated and available. There needs to be support for managers to respond and refer appropriately."
"Employees absorb the standard provided by their workplace take that message home. There is potential for huge social impact."
Statistically, one in five women experience harassment in the workplace, she said.
Looking more broadly, one woman is killed every week at the hands of a current or former partner but that number has increased to two a week this year. Domestic violence costs $14.4 billion per annum.
"Clearly this is an issue for everyone in the community," Mullen said.
"It is a workplace and community issue."